I am quite taken with this Libratone wireless speaker, though I had a few setup hassles. The device comes in a distinctive cylindrical box with a nightingale image on the top. Unpack it and you get a medium-size desktop (or table or shelf) speaker, around 22cm high, with a colourful cover that looks zipped on and a carry strap. There is also a power supply with UK and European adaptors, and a very brief instruction leaflet.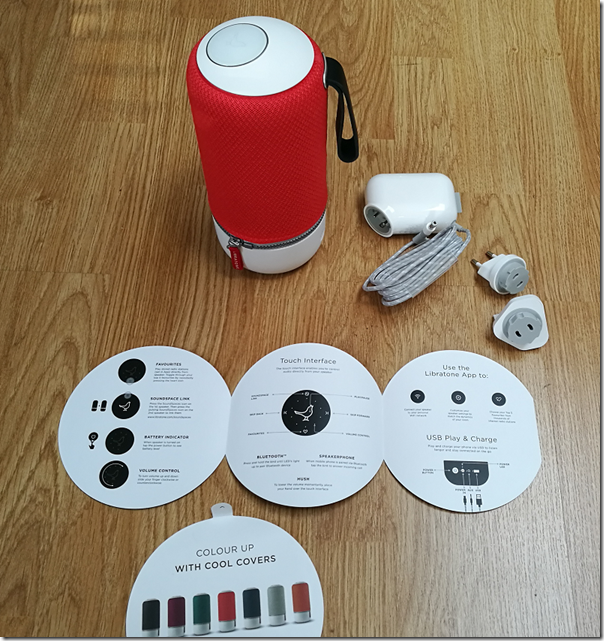 Plug in, and the device starts charging. The leaflet says to download the app (for iOS or Android) and "set up and play". It was not quite so easy for me, using Android. The app is over-designed, by which I mean it looks great but does not always work intuitively. It did not find the speaker automatically, insisted that a wi-fi connection was better than Bluetooth, but gave me no help connecting.
After tinkering for a bit I went to the website and followed the steps for manual wi-fi setup. Essentially you temporarily disconnect https://www.itwriting.com/blog your normal Wi-fi connection, connect your wi-fi directly to the Zipp, go to 192.168.1.1 in the browser, select your home wi-fi network, enter the password, and you are done.
Everything worked perfectly after that. I fired up Spotify, played some music, selected the Zipp under Spotify Connect, and it sounded great. For some Android apps you may need a Bluetooth connection though, or you can use DLNA. The beauty of Spotify Connect is that the connection is direct https://www.itwriting.com/blog the speaker to the internet, it does not depend on the app running, so you can switch off your phone and it still plays. It is actually a better solution than Apple Airplay for internet streaming.
Control is either via the app, or through the Nightingale button on the top of the speaker. The button works really well. Tap to pause or resume. Slide finger clockwise or anti-clockwise for volume. Skip forward or back by tapping the right or left edge. Then there is a neat "hush" feature: place your hand over the button and it mutes temporarily.
A bit more about the sound. Although this is the smaller Zipp Mini, you can tell that Libratone has taken trouble to make it sound good, and it is impressively rich and full considering the size of the unit. You are getting your money's worth, despite what seems a high price.
I spent some time comparing the Zipp with Squeezebox Radio, another (but sadly discontinued) wireless audio device I rate highly. Both are mono, both sound good. I did notice that the Zipp has deeper bass and a slightly softer more recessed treble. I cannot decide for sure which sounds better, but I am slightly inclined towards the Libratone, which is actually high praise.
One lovely feature of the Zipp is internet radio, which comes via Vtuner. This is hidden in the feature called Favourites. You select favourite radio stations in the app, with the default being BBC stations and Classic FM. You can change your favourites by tapping the Nightingale icon in the app (another hidden, over-designed feature) and tapping My Radio.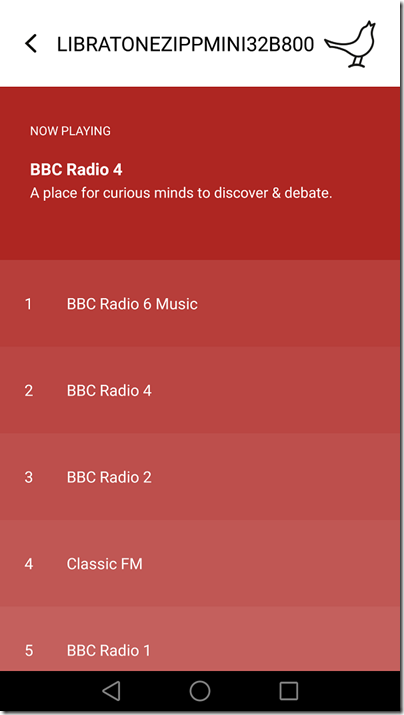 Once set up, tap the heart button on the Nightingale button on the device to switch to radio. Tap twice to skip to the next station. Internet radio does not depend on having the app running, it works directly https://www.itwriting.com/blog the Zipp.
The Zipp has a power button, press and hold to power on or off, tap to show remaining battery. It also has an aux jack socket, for wired playback https://www.itwriting.com/blog any source, and a USB socket which you can use either for charging a phone, or for playback https://www.itwriting.com/blog music files on USB storage (I did not try this, but a wide range of formats are supported, including MP3, WAV, FLAC, Ogg Vorbis, WMA, AAC, AIFF and ALAC). You can also use USB for wired playback https://www.itwriting.com/blog iOS, but not https://www.itwriting.com/blog other devices.
Apple Airplay is supported and worked great when I tried it with an iPad. One thing to note: there is currently no iPad app, so you have to search for the iPhone app, which does also work on the iPad.
This very flexible device also supports Bluetooth 4.1 and you can use it as a speaker phone, just tap the Nightingale button to answer a call, so yes it has a microphone too. It also supports DLNA which means you can "play to" the device on some applications, such as Windows Media Player.
If you have more than one Zipp you can connect them for multi-speaker playback. You can select Stereo if you have two speakers or more, but Libratone recommend something they call FullRoom, which means leave it to their digital signal processing (DSP).
Sadly I only have one Zipp, but there are a few options in the app to set DSP optimization for things like Outdoor, Shelf and Floor. I did not notice a huge difference.
You can get different colour covers, and I tried removing mine. It is a bit fiddly, and the current Zipp Mini does not quite match the explanation on the Libratone site. The handle on this Zipp does not come off; you unzip the cover, twist to disconnect the zip, then feed the handle through the hole. Not something you are likely to do often.
Finally, if you are curious like me, here are some specifications:
Class D amplifier
1 x 3" woofer, 1 x 1" tweeter 2 x 3.5" low frequency radiators
Frequency response 60-20,000 Hz (no dB range specified)
Maximum volume 96 dB SPL/1m
2400 mAhs battery
Bluetooth 4.1
10 hours of playback approx.
Conclusion? I really like the Zipp Mini. It sounds great, supports a wide range of standards, and works well for Internet radio. I like the appearance, the Nightingale button is elegant, and you can expand it with more speakers if needed. This or the larger Zipp model might be all the hi-fi you need.
Caveats: many of the features are a bit hidden, initial setup I found fiddly, the supplied instructions are hopelessly inadequate, and with all those choices it can get confusing.
No matter, it is a lovely device.
More information on the vendor's site here.