Remember Microsoft Vine? It was a well-meaning but puzzling product intended to assist communication in emergencies, but with additional potential for social communication. To nobody's surprise, Microsoft has emailed beta testers to inform that that the project is to be discontinued:
The decision to discontinue future development of Microsoft Vine was not easily made. Multiple options were thoroughly explored and evaluated with rigor and in the end it was determined that Microsoft Vine is not sustainable as a standalone offering.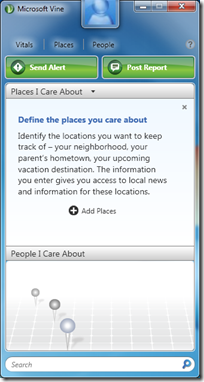 If there is a need for something like Vine in disasters and emergencies, it could only work as a cross-industry, cross-platform initiative. On the other hand, if Microsoft had in mind new ways to exchange local information, maybe enhancing Live Messenger would have been a better idea. One of the snags with Vine is that for it to be useful in an emergency, users would have to be signed up beforehand, but many of us are too busy on Facebook, Twitter or Messenger to think about it.