Yesterday I went along to Tutu's, a club which is part of Kings College Student Union in London, to hear Nina Nesbitt and Owl City.
The venue was mostly great, top floor overlooking the Thames, friendly atmosphere, docked a point for terrible beer (no bitter whatsoever, let along draught). It was packed: Adam Young's Owl City may get terrible reviews from the likes of NME, but he strikes a chord with many dedicated fans.
First up however was beautiful Scottish singer/guitarist Nina Nesbitt, who has just announced her own headlining UK tour. She has great stage presence and won over the audience with her passion, melody, strong percussive guitar and engaging personality. Highlights were the forthcoming single Boy, an earlier song called Glue, and by request an energetic cover of I'm Gonna Be (500 Miles) by The Proclaimers. She closed with The Apple Tree from her EP of the same name. She thanked the audience for listening to her – in other words, not talking loudly and heading for the bar – saying it was a rare experience, but if she keeps up this quality she will have no problem keeping attention. One to watch.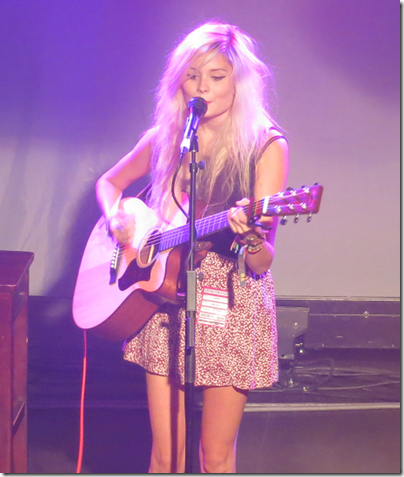 At around 9.00pm Owl City came on to perform the last date of their 2012 summer tour. The opening was stunning: fired-up crowd, opening drums from Steve Goold, and then Young was on singing the opening number, Cave In from the album Ocean Eyes.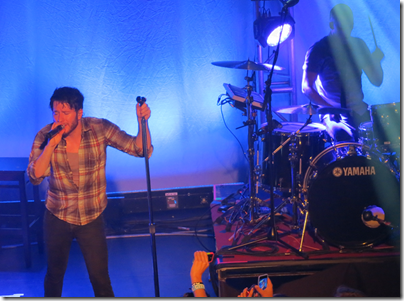 The sound was not great – I heard some bass distortion from where I was in the gallery – but the power and energy coming from Young, the band, and the enraptured audience was not to be denied. The music was also more muscular than I had expected, benefiting from the backing of a full band which the recordings mostly lack, and a nice counterpoint to the dreamy, introverted songs.
A key song is Umbrella Beach, which was the closing number. Something about exploring inner space. "Home is a boxcar – it's so far out of reach," he sings:
Home will always be here unseen, out of sight
Where I disappear and hide
I think dreamy things as I'm waving goodbye
So I'll spread out my wings and fly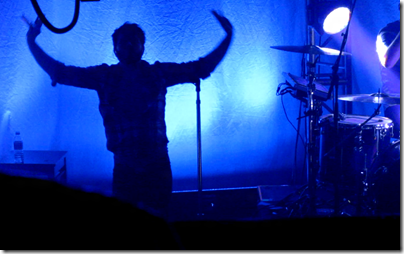 at which point Young does a marvellous Owl-like flapping motion with his arms, it sounds daft but we were transported.
I am old enough to remember being searched for cameras and recorders when going to a concert. Things are different now and everyone seemed to be making their own videos with smartphones held high. I even saw someone wielding an Apple iPad to take photographs.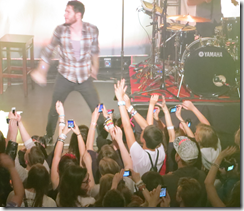 The band was:
Jasper Nephew on guitar
Steve Goold on drums
Daniel Jorgenson on guitar, vibraphone, "he plays everything"
Breanne Düren on keyboards and backing vocals