At CES Audio-Technica showed off its new range of ear buds, sorry "in-ear headphones", including this budget SonicFuel ATH-CKX5iS model, at a recommended price of $49.95 and including an in-line mic, answer button and volume control for use with smartphones. While towards the low-end, it is by no means the cheapest in the Audio-Technica range, which starts at just $14.95 for the ATH-CLR100.
The distinctive feature of the SonicFuel range is the C-tip earpieces which have a short curved arm that fits snugly in the ear. The ear tips also rotate so that they angle themselves to the shape of your ear. The result is an exceptionally snug fit, and ear buds that are less likely to fall out when you are on the go. Three sizes of C-tips and four sizes of ear tips are supplied. It does pay to take some time selecting the right size, and journalists attending CES were fortunate to have assistance from an expert fitter.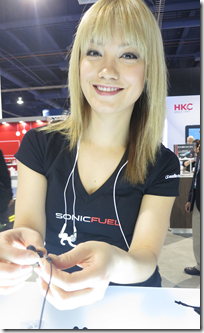 The truth is that the sound you hear from ear buds does vary substantially according to how snugly they fit, and while not everyone can get a personal fitting at CES, it is essential to fit them correctly to get the best results. Fitting the tips to the ear buds is slightly fiddly, but you only have to do this once.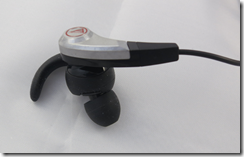 The in-line controller has a sliding volume control (a mixed blessing as you can accidentally slide it down and wonder where the volume has gone), a microphone and an answer button.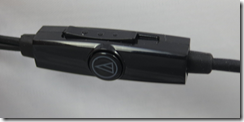 The headset is supplied with a handy bag for your headset and the spare gels.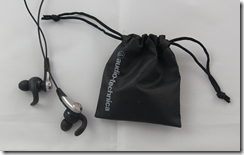 So how do they sound? The biggest problem is that bass is lacking and the sound overall is thin. Slight sibilance can be annoying on some material. Tonally they are bright rather than warm, though not unpleasantly so. The best thing I can say is that they are inoffensive.
The specifications show an amazing frequency response of 15-22,000 Hz which is hard to reconcile with the puny bass, but since no +/- dB range is shown I guess this does not mean much.
Summary: I love the C-tips and the snug, strong fit; but the sound is a let-down. Possibly going a little further up the SonifFuel range would be worthwhile, though these are the only ones I have heard.