One of the things mentioned by Microsoft VP Scott Guthrie in his Firestarter keynote yesterday was that Silverlight 5, the new version set for release in 2011, implements some 70% of what users have voted for. I presume he means the feedback forum here. But look what the top request is – as noted by a comment to yesterday's post: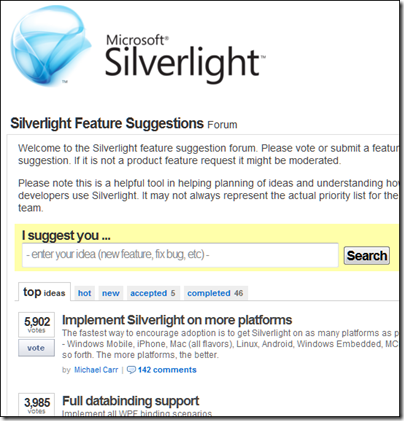 Looking at the comments, Android is a common request, and relatively easy for Microsoft to achieve given the open nature of that platform.
This was apparently not part of the 70% though. Instead, Guthrie introduced more Windows-only features – showing that concerns about divergence between Windows and Mac implementations when Microsoft announced COM support at the 2009 PDC were justified.
What if Microsoft had purchased Novell, or purchased Mono from Novell, instead of letting it go to Attachmate? It would have enabled Microsoft to unify the Windows and Linux implementations as well as building on the work the Mono team has done on compilation for iOS.
That dream is over though; the Silverlight application strategy seems focused on making it better for Windows-platform corporations.