What next for Mozilla? Tristan Nitot, president of Mozilla Europe, posts about some of the issues facing the open source browser project and Foundation. His list is not meant to be a list of problems for Mozilla exactly, but it does read a bit like that, especially the third point:
Google marketing budgets for Chrome are much larger than Mozilla's annual revenue.
though he does not mention how much of Mozilla's income actually comes from Google. The Foundation's last published figures are from 2009, and show that most of Mozilla's income is from deals with search providers, and while it is not specified, both common sense and evidence from previous years tells us that most of that is from Google.
Chrome is a mighty competitor on the PC, but here at least Mozilla has a large and established base of users. That is not so on mobile, and this is even more challenging, as Nitot notes:
In the mobile space, not all platforms enable the user to choose what Web browser to use. This trend may also be coming to the PC world with Chrome OS, which only runs Chrome.
He also refers to a recent interview in which CEO Ben Kovacs talks about why there is no Firefox for Apple iOS:
The biggest challenge is to get access to the lowest level of the device, these open platforms are not quite open, which is why we are worried about it, you don't have the true open web.
He adds:
It frightens me, it frightens me from a user point of view, I am not allowed to choose.
It is hard to see how Safari will not always be the browser for iOS, and while Mozilla has better chances on Android, it is hard to see how Google's stock browser will not always dominate there.
At a browser engine level, Mozilla has lost out to WebKit, which is used by Apple Safari, Google Chrome, RIM Playbook and HP WebOS. Microsoft's Windows Phone 7 uses Internet Explorer.
What can Mozilla do? Well, it seems that Mozilla executives have in mind to go beyond the browser into the world of apps. Kovacs hints at this in the interview above. In another post, the Chair of the Foundation Mitchell Baker says:
… the browser is no longer the only way people access the Internet. People also use more focused "apps" to do discrete tasks, and often feel a strong sense of attachment to the apps and the app model. This is an exciting addition. Mozilla should embrace some aspects of the current app model in addition to the browser model.
Therefore we find Firefox Home in Apple's App Store: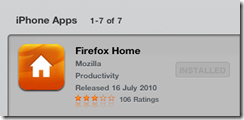 That said, it is not clear to me what sort of major contribution Mozilla can make in the app world, and the transition from browser company to app company would be a difficult one to pull off.
I cannot escape the thought that Mozilla's time is passing. Its success was built not only on an excellent browser, but also on widespread dissatisfaction with Microsoft's Internet Explorer and the stifling effect it was having on the progress of web standards. Firefox was a better browser, and gained disruptive momentum. In Germany Firefox currently has a 55% market share, according to Statcounter.
However, while Firefox is still a great desktop browser, Google and WebKit between them are now strongly advancing web standards, and even Microsoft is now talking up HTML 5. Mozilla has largely achieved its goal, leaving it now with an uncertain purpose.
It is good for web standards to have a powerful independent non-profit foundation, rather than having commercial giants like Google and Apple dominate, but in the end this has to be paid for either by a business model, or by sponsors. In this latter respect, IBM's withdrawal of funding for Firebug author John Barton is not a good sign.
In retrospect, Mozilla was too slow to embrace mobile; but most of the developments which are now impacting the Foundation are outside its control. On a day when Apple has announced breathtaking profits, it is worth noting Kovacs remarks about the chilling effects of closed platforms on Mozilla's work.