A recent and thorough piece on Visual Studio LightSwitch prompted a Twitter discussion on what kind of future the product has. Background:
LightSwitch is an application generator which builds data-driven applications.
A LightSwitch application uses ASP.NET on the server and Silverlight on the client.
LightSwitch applications can be deployed to Windows Azure
LightSwitch apps can either be browser-hosted or use Silverlight out of browser for the desktop
LightSwitch is model-driven so in principle it could generate other kinds of client, such as HTML5 or Windows 8 Metro.
LightSwitch first appeared last year, and has been updated for Visual Studio 11, now in beta.
I have looked at LightSwitch in some detail, including a hands-on where I built an application. I have mixed feelings about the product. It was wrongly marketed, as the kind of thing a non-professional could easily pick up to generate an application for their business. In my opinion it is too complex for most such people. The real market is professional developers looking for greater productivity. As a way of building a multi-tier application which does its best to enforce good design principles, LightSwitch is truly impressive; though I also found annoyances like skimpy documentation, and that some things which should have been easy turned out to be difficult. The visual database designer is excellent.
The question now: what kind of future does LightSwitch have? Conceptually, it is a great product and could evolve into something useful, but I question whether Microsoft will stick with it long enough. Here is what counts against it:
The decision to generate Silverlight applications now looks wrong. Microsoft is not going to do much more with Silverlight, and is more focused on HTML5 and JavaScript, or Windows Runtime for Metro-style apps in Windows 8 and some future Windows Phone. There is some family resemblance between Windows Runtime and Silverlight, but not necessarily enough to make porting easy.
There is no mobile support, not even for Windows Phone 7 which runs Silverlight.
I imagine sales have been dismal. The launch product was badly marketed and perplexing to many.
What about the case in favour? Silverlight enthusiast Michael Washington observes that the new Visual Studio 11 version of LightSwitch generates OData feeds on the server, rather than WCF RIA Services. OData is a REST-based service that is suitable for consumption by many different kinds of client. To prove his point, Washington has created demo mobile apps using HTML5 and JQuery – no Silverlight in sight.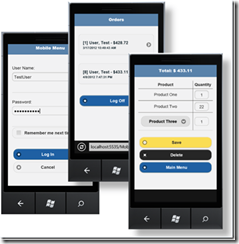 Pic from here.
Washington also managed to extract this comment from Microsoft's Steve Hoag on the future of LightSwitch, in an MSDN forum discussion:
LightSwitch is far from dead. Without revealing anything specific I can confirm that the following statements are true:

– There is a commitment for a long term life of this product, with other versions planned

– There is a commitment to explore creation of apps other than Silverlight, although nothing will be announced at this time
Hoag is the documentation lead for LightSwitch.
That said, Microsoft has been known to make such commitments before but later abandon them. Microsoft told me it was committed to cross-platform Silverlight, for example. And it was, for a bit, at least on Windows and Mac; but it is not now. Microsoft was committed to IronRuby and IronPython, once.
For those with even longer memories, I recall a discussion on CompuServe about Visual Basic for DOS. This was the last version of Microsoft Basic for DOS, a fine language in its way, and with a rather good character-based interface builder. Unfortunately it was buggy, and users were desperate for a bug-fix release. Into this discussion appeared a guy from Microsoft, who announced that he was responsible for the forthcoming update to Visual Basic for DOS and asked for the top requests.
Good news – except that there never was an update.
The truth is that with LightSwitch still in beta for Visual Studio 11, it is unlikely that any decision has been made about its future. My guess, and it is only that, is that the Visual Studio 11 version will be little used and that there will be no major update. If I am wrong and it is a big hit, then there will be an update. If I am right about its lack of uptake, but its backing within Microsoft is strong enough, then maybe in Visual Studio 12 or even sooner we will get a version that does it right, with output options for cross-platform HTML5 clients and for Windows Phone and Windows Metro. But do not hold your breath.