I attended QCon London last week and found it fascinating, but have not written as much about it as I intended because of various other deadlines. In order to address this I will do a quick daily post for the next week or so.
QCon is a software development conference run by InfoQ. It is vendor-neutral and focuses on large-scale enterprise development as well as future trends, language choices and changes, software architecture and more. If you delve into the history of the event it has championed techniques including Agile development, Service Oriented Architecture, Microservices, and now AI. The event has a culture and an ethos, which is something to do with human-centred software, team communications, taking hte side of the user, aversion to unnecessary complexity, and constant exploration of emerging technology.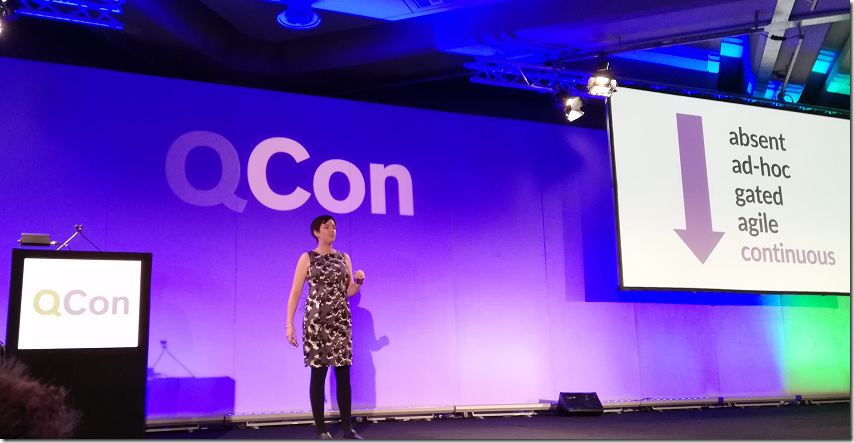 Laura Bell of SafeStack speaks at QCon London on Architecting a Culture of Secure Software.
QCon, like many other events, encourages attendees to give feedback on sessions they attend. At other events I have often seen forms with several categories and questions like "How well did the speaker know their subject" and "What was your biggest takeaway from this session"? While such questions are reasonable, the problem is that they are too difficult and time-consuming and therefore not many respond, or the responses are of low quality. The QCon organisers decided years ago that the only feedback system that works is to have attendees vote good, indifferent or poor as they leave. This used to be done with coloured paper and is now electronic. I mention this because it says something about the event culture: let's prefer something that works and is not a burden, despite the seeming crudity of a 1-2-3 scoring system. And of course even such basic information is highly valuable in discerning which sessions were most appreciated.
The event prefers practitioners, engineers and team leads over evangelists, trainers and consultants. It attracts a particularly able audience:

Of course you can learn plenty outside the actual sessions by chatting to other attendees.
Up next: technical ethics at QCon London.