At Google's IO conference under way in San Francisco, the company has announced the ability for a Chromebook to run Linux applications.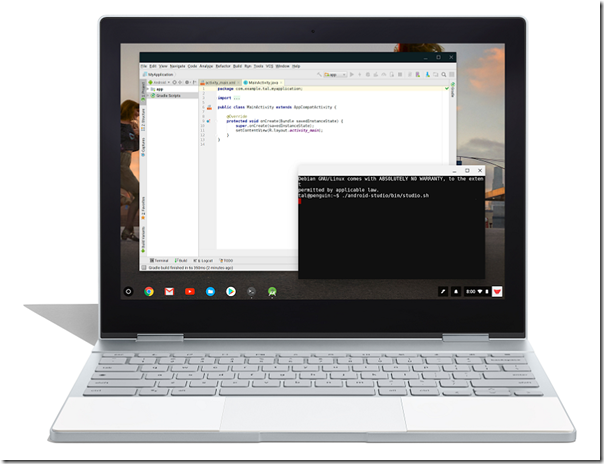 "Support for Linux will enable you to create, test and run Android and web app for phones, tablets and laptops all on one Chromebook. Run popular editors, code in your favourite language and launch projects to Google Cloud with the command-line. Everything works directly on a Chromebook," says product manager Ton Buckley. "Linux runs inside a virtual machine that was designed from scratch for Chromebooks. That means it starts in seconds and integrates completely with Chromebook features. Linux apps can start with a click of an icon, windows can be moved around, and files can be opened directly from apps."
Squinting at the screen in Google's photo, above, it looks like the Linux VM runs Debian.
Coupled with the existing ability to run Android apps, the announcement makes Chromebooks more attractive for users (and I am one of them) who would previously have found the operating system too restrictive.
Buckley presents the new feature as primarily one for developers. You will be able to build and test Android applications directly on the Chromebook. Given the operating system's native support for Android, this should be an excellent machine for Android development.
One of the first things I would install would be Visual Studio Code, presuming it runs OK. Thanks to .NET Core, ASP.NET development should work. The LAMP stack running locally would be great for  PHP development.
Personally I would not only use it for coding though. The ability to run LibreOffice would be great, for example. There are also a ton of handy Linux utilities for admins.
Top feature: security
The key attractions of Chromebooks (aside from low prices from OEM vendors) is security. They are popular in education for this reason. They require less management than PCs because the operating system is locked down and self-patching. The new feature should not compromise security too much, because Linux runs in a VM and in the worst case resetting the VM should clear any malware – though access to user documents could make malware running in the VM quite disruptive.
Apple's iPad Pro is another capable device with a locked down OS, but does not run Linux applications.
What about Windows? Microsoft has tried and so far failed to lock down Windows in a manner acceptable to its customers. Windows RT was the first attempt, but users found it too restrictive, partly because the Windows 8 app ecosystem was so weak. Windows S is another attempt; but progress is slow. Microsoft has also weakened the security of its modern app platform to make it more capable, even to the extent of allowing desktop applications into the Windows Store. The approach taken by Apple and Google, to design a new secure operating system and make it gradually more capable, is more viable than Microsoft's work in the opposite direction.