Ian Hunter is in the UK for a Mott the Hoople reunion gig and did an interview with long-time BBC DJ Johnnie Walker, on the nostalgia show Sounds of the Seventies. If you are in the UK you can listen to it here for a limited time. The show is two hours long but the actual interview only around fifteen minutes (excluding the music).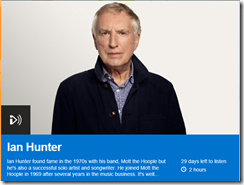 Hunter does a few interviews and I find them somewhat frustrating in general, because he always tends to get asked the same questions, and especially about the time when David Bowie gave Mott the Hoople a song (All the Young Dudes) to revive their career. Hunter is always patient but I wish he would be quizzed more often about the rest of his long career. Still, he is promoting a Mott the Hoople reunion so I guess it was not inappropriate on this occasion.
The Ian Hunter section opened with Wizzard's See My Baby Jive, a hit single in May 1973 and chosen by Hunter. Why? "It was at a time when there wasn't too much good stuff about," he said. "I was getting disenchanted when all of a sudden that came out, it was brilliant, absolutely brilliant." You can certainly hear the influence in songs like The Golden Age of Rock 'n Roll on Mott the Hoople's 1974 album.
Walker asked about Hunter's early years, when he won a talent competition in Butlin's holiday camp, which kicked off a spell in a band called the Apex Group in the fifties. Then Hunter mentions performing in Hamburg with Freddie Lee, who told him he might have a future as a songwriter but "don't ever sing 'em". Ha ha.
Then Bob Dylan came along, says Walker. "Bob was like the character singer," said Hunter, "if it hadn't been for him a lot of people like myself would never have got a shot. It was like a personality way of singing."
We move on to the beginnings of Mott the Hoople and how Guy Stevens chose Ian Hunter as the singer of a band he was signing to Island Records, in place of Stan Tippins who became tour manager. "Guy was amazing. He was frustrated because he couldn't do it himself, but he had the taste."
Skipping a few years, we move on to Bowie and how Mott turned down Suffragette City, then went to hear All the Young Dudes. "David sat on the floor and he played All the Young Dudes on acoustic guitar". Why did Bowie give away such a great song? Apparently he had been tinkering with it and it was not quite working. "He kinda got fed up with it," said Hunter, "it needed new blood."
A chat about the new reunion with Ariel Bender and Morgan Fisher follows. "We got together twice before but it was the original band. This is the second part of the band and they never got a shot to play on those two reunions. I always felt it was a shame, so now they get their moment in the sun," said Hunter.