Face unlock is a common feature on premium (and even mid-range) devices today. Notable examples are Apple with the iPhone X, Microsoft with Windows Hello (when fully implemented with a depth-sensing camera like Intel RealSense), and on Android phones including Samsung Galaxy S9, OnePlus 6, Huawei P20 and Honor View 10 and Honor 10 AI
I've been trying the Honor 10 AI and naturally enabled the Face Unlock, passing warnings that it was less secure than a PIN or password. Why less secure? It is not stated, but a typical issue is being able to log in with a picture of the normal user (this would not work with Microsoft Hello).
Security is an issue, but I was also interested in how desirable this is as a feature. So far I am not convinced. Technically it works reasonably well. It is not 100% effective, especially in either bright sunlight or dim light, but most of the time it successfully unlocks the Honor phone. It is all the more impressive because I sometimes wear glasses, and it works whether or not I am wearing them.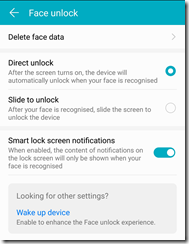 I enjoyed face unlock at first, since it removes a bit of friction in day to day use. Then I came across annoyances. Sometimes the face recognition takes longer than a PIN, if the lighting conditions are not optimal, and occasionally it fails. It has introduced a touch of uncertainty to the unlock process, whereas the PIN is fully reliable and controllable. I tried the optional "wake on pick up" feature and again had a mixed experience; sometimes the the phone would light up and unlock when I did not need it.
Conclusion? It is something I can easily live without so a low priority when choosing a new phone. Whereas fingerprint unlock, now that the technology has matured to the point of high reliability, is something I still enjoy.