Today IT Week has my piece on the lack of any business model in Yahoo Pipes, a thought underlined by an unusual press release which popped into my inbox. It is from John Earley of MyWebAlert, a company set up to monitor web site availability. Press releases are not usually so dejected:
Following a series of reports (copies available) that proved website availability is miserable in both the public and private sectors, we had thought folks would pay a paltry sum for monitoring and management services. This has proved not to be the case. Having sunk the investment in the software and architecture, we have abandoned hope of a business plan and are now making the service available free-of-charge.
Intrigued, I took a look at the site. The About page confirms this gravity-defying business endeavour, but looks forward to a bright tomorrow "somehow":
There is no fancy business model, the Company can exist without revenues. It is managed in the belief that somehow, the momentum that it creates, will bring about a means for expanding the range of services that it offers.
It appears that the strategy is working, at least in terms of expanding the business. That's presuming that site overload is the reason for what happened when I tried to sign up: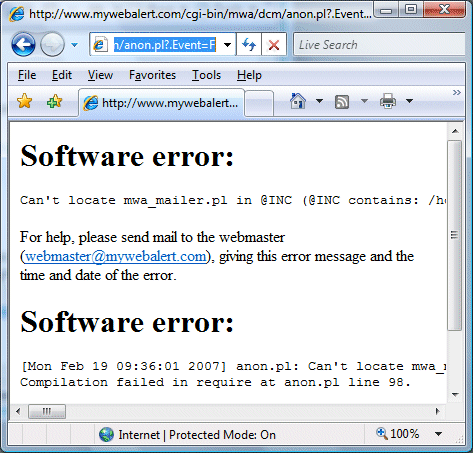 One presumes the outage will be short-lived, bearing in mind the company's raison d'etre.
Incidentally Web site monitoring is also available from Netcraft and no doubt others. For a fee.