I'm actually enjoying Outlook 2007 on my desktop, especially since applying the February patch. It opens in a couple of seconds even from cold. I'm running on Vista 64-bit, and not using cached Exchange mode.
Until today, that is. Started Outlook and got this bewildering message:

This Microsoft article suggested I might not have a default gateway. That was nonsense; so I opened Mail setup (I can get to this through the Properties of the Outlook shortcut), clicked Show Profiles, added a new profile and set the new one as default.
Outlook works fine now. I'm not impressed with the error message though.
Update
While using a new profile works, there is an easier fix as noted in many of the comments to this post. You can run Outlook with the /resetnavpane argument. Here's the step by step:
1. Press Windows key and R together to open the Run dialog.
2. In the Open field, type:
outlook.exe /resetnavpane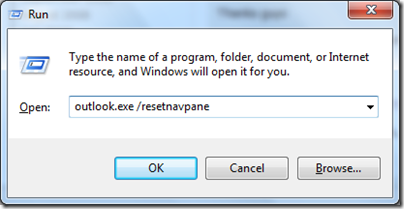 Note: there is a space between outlook.exe and /resetnavpane. There are no other spaces in what you have to type.
3. Click OK. Outlook should open.
Helpful post? Sponsor ITWriting.com for ad-free access to the site