Noah Hart has published his port of SQLite to C#. The project is called C#-SQLite. The main SQLite author, D Richard Hipp, originally said that the project should not include SQLite anywhere in its name, but has now relented:
I think I would be comfortable with a name like C#-SQLite. The prefix makes it clear that it is a reimplementation, not the original. People notice prefixes much more readily than suffixes. There is also precedent for changing a prefix for a reimplementation. Lucene, for example, was ported to C-Lucene. I'm sure there are others.

The whole point of this exercise it to avoid confusing people. Folks who use C#-SQLite need to be fully aware that what they are using is distinct and separate from the original SQLite. As long as that one condition is met, I am happy.
I downloaded the code, compiled in Visual Studio 2008 (requires project conversion), ran the shell and tried a couple of commands. It works!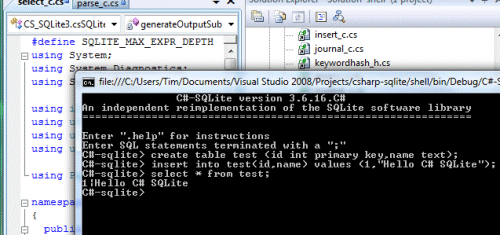 Of course there are already a million ways to use SQLite from .NET, but they all require platform invoke to native code, which is not allowed in some scenarios for security and/or cross platform reasons – Silverlight being a prime example.
Next question: how hard will it be to get this working in a Silverlight project?
See also SQLite C# port raises hopes for a Silverlight local database manager which has some early performance results.