When I saw that trying out Intel's Moblin Linux 2.1 was as easy as downloading an image and writing it to a USB pen drive, I could not resist giving it a try.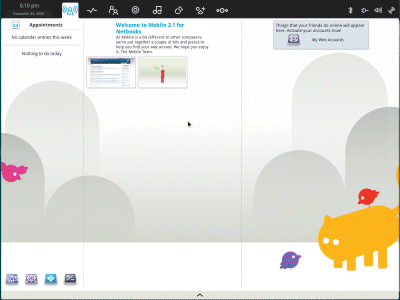 Moblin (it rhymes with Goblin) is aimed at netbooks running Intel's Atom processor, though it also runs on other Intel processors – mine is a Core 2 Duo. The supplied intro says it is a "completely new user experience" and "the next evolution in operating systems". Well, one thing greatly impressed me. Moblin booted perfectly when plugged into my Toshiba M400 Portege laptop, playing sound and video, and picking up the wi-fi card without any messing around.
Next, I spent a few minutes exploring the user interface. There are some fun, bouncy mouse-over effects, though the cutesy default imagery, featuring an unlikely friendship between what I think is a cat and some birds, did nothing for me. I discovered a browser based on Mozilla, but hiding many of its features, a media player, an application gallery with easy install of a selection of further apps (the usual Linux things), and an effort to bring social networking to the fore by integrating with Twitter and last.fm, with others presumably to follow.
I am not sure about it though; I suspect the first thing I would do with a Moblin netbook is to work out how to install Ubuntu or some other Linux that is less sugar-coated and exposes all the features I am used to; and I suspect most users (given the choice) would rather have Windows 7.
My instant and probably unfair reaction is that Microsoft has nothing to fear from Moblin, even though I can see that a lot of work has gone into making it easy to use.
It is an interesting contrast to Google Chrome OS, which I have also been trying. Although Moblin has more features right now, Chrome OS is more compelling; Chrome OS feels stripped-down rather than simplified, and embraces a new model of computing that I think can be made to work.
Incidentally, Google acknowledges Moblin as one of the open-source projects which it uses in Chrome OS.