I'm early to the London event; but registration is open and I get a flimsy red bag with oddments including a tin of "Goo" which turns out to be thinking putty. The event is at The Brewery in the heart of the City. We are ushered into the Blogger Lounge – stylish, with bright-coloured cushions, soft pastel lighting, fresh-squeezed orange juice and no chairs. A quick glance around the room tells me that Macs outnumber Windows by about 4 to 1.
The event will kick off with a keynote from Chris DiBona "Developer message" and Ed Parsons "Geo Message". Then I've got API workshops – lots of AJAX and Maps – and closing with another keynote live from Mountain View.
I'm already familiar in a broad sense with Google's developer offerings, but what is the strategy? Getting closer to that is one reason to be here. The other to assess how useful all this stuff is in the real world – to developers that is, rather than to Google.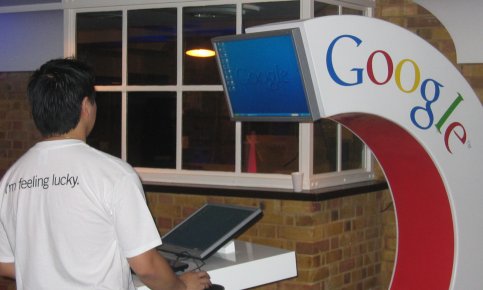 More as it happens.