I grabbed the first question after the opening keynote today. It was prompted by my visit to the Google Gears site – I'd intended to install the beta. I was confronted with this dialog: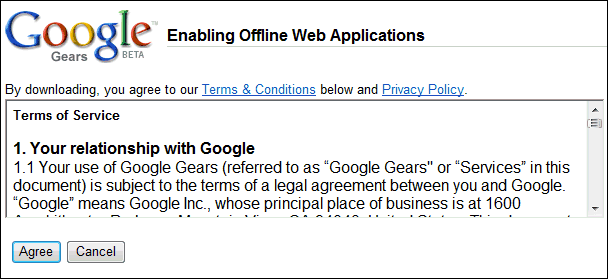 I asked:
Why does Google display an 8-page agreement in a box 7 lines high?
More significantly, why does it include this clause which strikes me as unreasonable:
12. Software updates
12.1 The Software which you use may automatically download and install updates from time to time from Google. These updates are designed to improve, enhance and further develop the Services and may take the form of bug fixes, enhanced functions, new software modules and completely new versions. You agree to receive such updates (and permit Google to deliver these to you) as part of your use of the Services.
Of course I'll have to install Gears; I can't do my job otherwise. But I'm inclined to do so in a virtual machine, because I prefer to keep control of what gets installed.
There's plenty more in the agreement that you might object to- have a read and see.
It all sits uncomfortably with the stuff we've heard about how much Google loves open source, Creative Commons licenses and so on.
My question wasn't answered, but Chris DiBona invited me to email him with the question, which I've done, referencing this post.
Technorati tags: google, user agreement, gears