Ever wondered what the web would look like if Silverlight or Flash were used for everything? The other day I came across a business site implemented entirely in Silverlight – well, apart from the forums, which seem to be HTML and JavaScript. ForefrontSecurity.org is a third-party resource site for Microsoft's firewall and server security products. It is mostly documents and videos.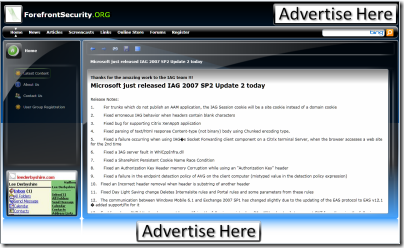 On the plus side, the site looks good, provided you can run Silverlight; and given the target readership that's not too much of a stretch in this instance. Playing the embedded screencasts is very smooth, and they feel seamlessly integrated with the site, more so than with HTML plus a video plug-in.
That said, I found the site infuriating. Without thinking, I tried to scroll a document using the mouse wheel; nothing happened. The page up and down keys do not work either. Copying text works with Ctrl-C, but if you select and right-click, you just get the Silverlight "about" menu. I also found that the graphic effects – screens typically fade in as they change – made the site seem slow. Some things, like hyperlinks in full-screen mode, did not work as expected.
An interesting experiment; but for a site like this which is mainly about finding and reading documents, its hard to see a good reason not to use HTML.