I attended a Microsoft briefing on Windows Phone 7 (WP7) yesterday. Here's a quick summary of what interested me.
It does appear to be a decent phone. Unfortunately I've not yet received a preview device, but there's no doubt that the user experience is well ahead of that on previous Windows Mobile devices.
The user interface is distinctive as you have no doubt seen. Microsoft is building strong links with both Facebook and Windows Live, surfaced at various places, and hopes this will be the best phone for social networking. It also hooks into Xbox Live, though it does not enable real-time multiplayer games, only turn-by-turn.
It has Bing maps with GPS support, though I suspect it will not be the equal of Google Maps on iPhone or Android. However, at least Microsoft is not in Apple's position where it relies on a competitor for this key application.
One significant aspect for both users and developers is Tile Notifications. Each installed app has a tile which the user can install on the Start (home) page. These tiles can display text and image notifications that can be customized for the user. For example, a travel app could show a red alert and a message if a plane was cancelled or delayed. A sports app could show the latest score for your favourite team. However, there is no multi-tasking, so most of the time the app is not even running. How does this work?
The answer is that Microsoft hosts a notification server through which app vendors can push notifications. The app vendor needs to store on its own server any user-specific data, such as which flight she has booked. The app vendor can then push notifications to the user via Microsoft's service. A more detailed explanation is here.
I like this form of notification since it is non-intrusive for the user. If you do not want to see them at all, you can just remove the tile from the Start page.
Microsoft confirmed that in-browser Silverlight will not work on launch. This strikes me as surprising, since Silverlight is built into the OS. I guess it will come later.
I asked a few questions.
When will we get Windows Phone 7? Microsoft is only saying "for Christmas 2010".
Will it support tethering? No comment at the moment.
Will there be any way to copy a file from your PC to the device? I thought this would get a straightforward answer, but it did not. I was told that the PC side of WP7 has not been announced yet. However, it will bear some relation to what has been done before for Zune – though the UK still might or might not get the Zune Pass subscription service. Prompted by this discussion, I downloaded the Zune software. It is nicer to use than Windows Media Player, for sure. Why does Microsoft have two free media players, a good one that is reserved for a small niche of US users, and a mediocre one that comes with every version of Windows? You tell me.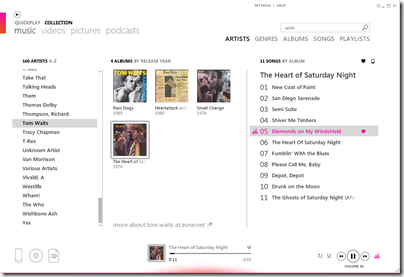 Will there be any way to deploy applications without going through the Marketplace? The answer is mostly "No", though Microsoft knows this is necessary for corporate apps and says there will be an announcement on the subject later this year. That said, there is a developer portal, intended for testing your apps, where you can specify up to 5 or 10 users who can download and install an app. This is in effect a limited private deployment, though it is not intended for that purpose.
Deploying apps to Windows Phone 7 will be slightly more expensive than it is for Apple's iPhone. The policies are explained here. You pay $99 to register, which gets you five free submissions, after which it is $19.99 per app. Each registration is limited to five free apps, but there is no limit on paid apps. There is a 70/30 revenue split. The idea is to limit the number of low quality apps. Not a bad thing considering the amount of junk in Apple's App Store.