Users of Office Web Apps have just been given some minor but welcome updates, described here.
They include printing in Word when in edit mode,new chart tools in Excel, and again in Excel the handy autofill tool, which lets you drag the bottom left corner of a selection to extend it automatically. In the example below, the blank cells fill with the remaining months of the year.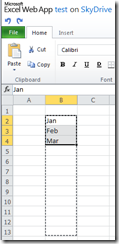 Office Web Apps also work on SharePoint 2010 deployed internally. However, the version of Office Web Apps for SharePoint has not been updated, so these users (who have to pay for Office licenses) now have an inferior version to that available for free users on SkyDrive.
Automatic and incremental bug-fixes and updates are one of the inherent advantages of cloud computing.