I wrote a (very) short history of Windows for the Register, focusing on the launch of Windows 1.0 25 years ago.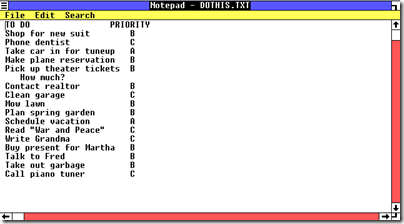 I used Oracle VirtualBox to run Windows 1.0 under emulation since it more or less works. I found an old floppy with DOS 3.3 since Windows 1.0 does not run on DOS 6.2, the only version offered by MSDN. In the course of my experimentation I discovered that Virtual PC still supports floppy drives but no longer surfaces this in the UI. You have to use a script. Program Manager Ben Armstrong says:
Most users of Windows Virtual PC do not need to use floppy disks with their virtual machines, as general usage of floppy disks has become rarer and rarer.
An odd remark in the context of an application designed for legacy software.
What of Windows itself? Its huge success is a matter of record, but it is hard to review its history without thinking how much better it could have been. Even in version 1.0 you can see the intermingling of applications, data and system files that proved so costly later on. It is also depressing to see how mistakes in the DOS/Windows era went on to infect the NT range.
Another observation. It took Microsoft 8 years to release a replacement for DOS/Windows – Windows NT in 1993 – and another 8 years to bring Windows NT to the mainstream on desktop and server with Windows XP in 2001. It is now 9 years later; will there ever be another ground-up rewrite, or do just get gradual improvements/bloat from now on?
I don't count 64-bit Windows as a ground-up rewrite since it is really a port of the 32-bit version.
Finally, lest I be accused of being overly negative, it is also amazing to look at Windows 1.0, implemented in fewer than 100 files in a single directory, and Windows 7/Server 2008 R2, a platform on which you can run your entire business.