Microsoft has released a Web Standards Update for Visual Studio 2010, with new HTML5, CSS3 and JavaScript support.
I look forward to trying it; but Internet Explorer 9's Smart Filter was not keen.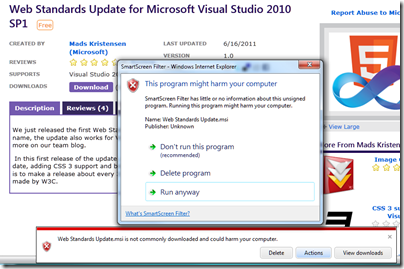 What you cannot see from the screenshot is that the option to "Run anyway" is hidden by default. You have to click More Options; otherwise you just get the first two options, Don't run, or Delete.
Note that this download is from an official Microsoft site, and has been downloaded, according to the stats on the page, nearly 6,500 times.
Developers can cope; but I think this sort of warning is extreme for a download from an official Microsoft site, whose main crime is being unknown, for some reason, to the SmartScreen database of approved executables.
Though maybe the Visual Studio team should have signed the installer.
The long term effect is that we learn to ignore the warnings. Which is a shame, because the next one might be real.
Update: How do other browsers handle this scenario? Here's Google Chrome:

Mozilla Firefox – a prompt, not a warning: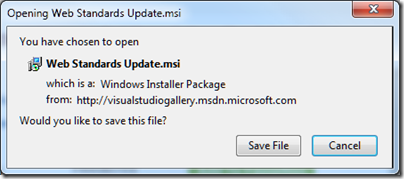 same in Apple Safari:
Which is best? Well, IE9 wins kudos for being the only browser to point out that the package is unsigned; but loses it for its over-the-top reaction. Chrome has pitched the leverl of warning about right; Firefox and Safari are perhaps too soft, though let's also allow for the fact that their filters may already have worked out that thousands had already downloaded this file without known incident so far.
The IE9 issue is mainly because the installer package is unsigned, which is probably an oversight that will be fixed soon.