I have been assisting a friend who, she told me, could not get BBC iPlayer to work. Further, another site was telling her she did not have ActiveX, but she was sure she had it.
This was puzzling me. She described how she went to the BBC iPlayer site, and it said she needed to install Flash.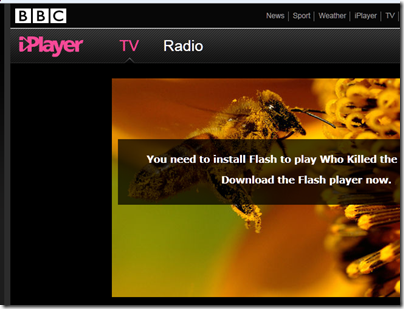 She clicked the link and got to Adobe's download site. She clicked Download now and got a page describing four steps to install, but nothing happened, no download.
She clicked Adobe's troubleshooting guide, which took her through uninstalling Flash Player and then a manual download. All seemed to work but at the end of it, it was the same. Go to the BBC site, and be told to install Flash Player.
You can understand how computers, at times, can seem downright hostile to the long-suffering user.
What was the problem? I logged on with remote assistance. Somehow, IE9 had ActiveX Filtering enabled.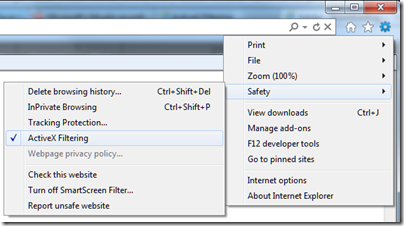 This is actually a great security feature. ActiveX is disabled on all sites by default. A little blue circle symbol appears at top right.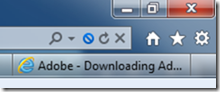 Click this symbol and you can turn off filtering for this site only.
Yes, great feature, once you are aware of it – but too subtle to be noticed by the average user browsing the web. From the user's perspective, no amount of uninstalling and reinstalling of Flash Player would fix it, and the PC was about to be flung across the room in frustration.
The other problem is that the feature is too new and too little used to feature in most of the troubleshooting guides out there. It is not mentioned in Adobe's page on troubleshooting Flash on Windows and in IE, for example.
How the setting got enabled in the first place is a mystery. Maybe a mis-click. It is unchecked by default, and you can see why.
Conclusions? I guess it shows that security without usability is ineffective; and that minimalist user interfaces can work against you if they in effect hide important information from the user.
Incidentally, this is why  I dislike the Windows 7 feature that hides notification icons by default. It is user-hostile and I advise disabling it by ticking Always shot all icons and notifications on the taskbar.
It may be more secure, but I would not consider enabling ActiveX Filtering for non-technical users.