The internet and search: the greatest resource ever for troubleshooting computer systems.
Except when you follow a promising link to find this: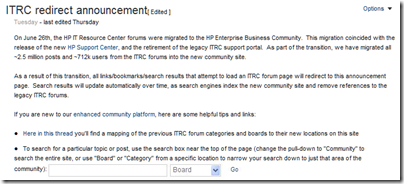 On June 26th, the HP IT Resource Center forums were migrated to the HP Enterprise Business Community. This migration coincided with the release of the new HP Support Center, and the retirement of the legacy ITRC support portal. As part of the transition, we have migrated all ~2.5 million posts and ~712k users from the ITRC forums into the new community site.
As a result of this transition, all links/bookmarks/search results that attempt to load an ITRC forum page will redirect to this announcement page.
I understand the reasons; but I wish companies would think twice before doing this. Or three times. Eventually the search engines will stop listing the broken links, but other references to these support discussions will still be broken.
How much would it cost HP to keep the old links online in read-only form?
It is not just HP of course. These generic "sorry, we broke the link" pages pop up regularly on Microsoft's site, for example, often after following a link on Microsoft's own site.
The web is designed to tolerate broken links; it is one of the reasons why it works. However, that is no reason to break them with abandon.