Apple and Adobe appear to have a difficult relationship, as shown by Apple CEO Steve Jobs with his Thoughts on Flash last year. Now it seems that there are issues for users of some Adobe products if they upgrade to the new version of OS X, Lion, just released.
Adobe's FAQ on Creative Suite compatibility starts well:
Adobe and Apple have worked closely together to test that Adobe® Creative Suite® 5 and CS5.5 suite editions and individual products run reliably on Intel® based systems running Mac OS X Lion (v10.7) with optimal performance and user experience.
The FAQ adds that Creative Suite 3 and 4 also mostly work; but it gets worse:
Adobe Flash® Catalyst® CS5.5 and Adobe Flash Builder® 4.5 software are generally compatible with Mac OS X Lion; however, we have discovered issues that may degrade the user experience or affect use of the products. We do not recommend that these customers upgrade to Mac OS X v10.7.

Flash Catalyst CS5 and Flash Builder 4 will not work on Mac OS X v10.7. Adobe does not intend to update either of these products for use on Mac OS X v10.7. It is recommended that customers using these versions not upgrade to Mac OS X v10.7.
What is the problem with Flash Builder 4.5 on Lion? It seems to be to do with 3rd party components:
Flash Builder and Flash Catalyst are dependent upon a number of foundational technologies provided by third parties that are not yet fully compatible with Mac OS X v10.7. As these foundation pieces are certified on Lion, Adobe plans to undertake additional testing and issue a compatibility update to our products if applicable.
It would be good to know what these components are and whether there are real problems, or possibly Adobe is just being cautious.
There are also problems for users of Adobe Reader. Reading between the lines, it seems that Apple is discouraging the use of a third-party plug-in to render PDF in Safari, in favour of its own PDF renderer:
Adobe Reader plug-in and Acrobat plug-in are not compatible with the Safari 5.1 browser, which will ship with Mac OS X 10.7 and for 10.6 in July. Adobe Reader and Acrobat will continue to work as standalone applications on Mac OS X 10.7 and 10.6, and will render PDF documents outside of the browser. In addition, Safari 5.1 renders PDF documents natively. However, the Adobe Reader and Acrobat plug-ins will not function as expected in LiveCycle and Acrobat workflows that require either plug-in to render PDF documents in Safari 5.1
The problem is not with viewing standard PDF documents, but with documents and forms that require advanced features of the Adobe Reader to work. A partial workaround is to open documents outside Safari, but Adobe says this is not always enough:
In other cases, such as Adobe Reader, Acrobat and LiveCycle applications that utilize functionality like forms, digital signatures, portfolios, guides, 3D, extended PDFs and rights management, viewing a PDF inside the browser with the Adobe Reader or Acrobat plug-in may be required, and thus this workaround will not be successful.
and you cannot use Firefox either:
Acrobat Reader plug-in and Acrobat plug-in are dependent on the WebKit WebPlugin API and capabilities that were unique to Safari. Other browsers like Firefox, Chrome, or Opera do not have the required functionality to run the plug-ins properly.
The suggested solution is not to upgrade to Lion.
There are also some issues with the Flash Player. An inconclusive note in the FAQ suggests that hardware acceleration is not working:
Flash Player may cause higher CPU activity when playing a YouTube video. Possibly related to disabled hardware acceleration.
Update: Adobe now says hardware acceleration is OK on Lion.
In addition, if you right-click Flash content in the browser, you will find that the settings do not respond to mouse clicks.
Finally, when I fired up Dreamweaver CS 5.5 on Lion, the system informed me that there is a dependency on Java and prompted me to install it: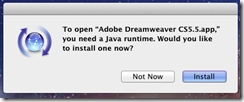 This went smoothly, Dreamweaver 5.5 opened and seems to work fine.