I was intrigued to see an article on CNET called Word 2007 loses the ability to export outlines to Powerpoint. It says:
There's a great little feature in Microsoft Word 2003 and earlier versions of the word-processing program that lets you export to Powerpoint an outline of any Word file formatted with headings … I was all set to tell you how to use the feature in Word 2007 when I realized it has been removed.
I wondered if perhaps the feature was still there, but the author missed it, so I used my usual technique for finding obscure commands in Office 2007. Go to Customize Quick Access Toolbar, then choose More Commands, then All Commands. Hey, there it is: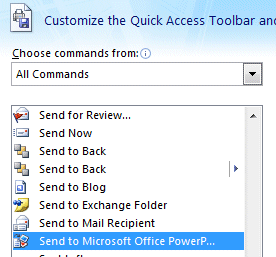 This is a great place to look if you cannot find a feature you used in earlier versions of Office.