Just before Christmas I spoke to Daz Wilkin, Microsoft Developer Platform Evangelist, about Office development and Sharepoint. I've wanted to catch up on Sharepoint for some time, since it is achieving significant usage. Here's a recent study which claims that:
the number of SharePoint applications in place today will quadruple over the next 12 months
Wilkin says that:
SharePoint is approaching becoming a billion dollar business for Microsoft. It's vastly exceeded all of our estimates.
I suspect that journalists, myself included, have given Sharepoint insufficient attention. One reason is that it is a slippery product to describe and seems to straddle several categories, such as portal server, smart file store, and workflow platform. "I don't think Microsoft has done a bang-up job in being able to articulate it. It is many things to many people," says Wilkin.
Another problem is the confusion over SharePoint Portal Server (paid for) and SharePoint Services (free add-on for Windows server). You can find a point-by-point comparison here. The free SharePoint Services, on which Portal Server is built, are surprisingly rich. Once you have them installed, which can be a little painful, you get instant wikis and blogs, shared documents with versioning, permissions, and the ability to open and save directly from Office applications, shared calendars and tasks, and online forums. Here's the settings panel for a shared document store: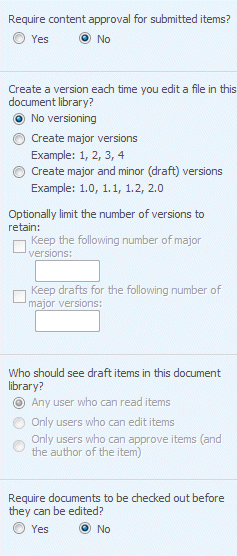 It's a shame that document versioning is off by default, but there is plenty of value in these features. Note we are mainly talking intranet rather than internet, though hosting SharePoint is a growing industry and it is also core to Microsoft's own hosted service efforts.
Why is installation painful? Well, you need Windows Server, and if you want to use ASP.NET for something other than SharePoint on the same box, it needs a bit of tweaking. For example, if you run Exchange and install SharePoint Services, it breaks Outlook Web Access. On my server I got round this by adding a second host name in local DNS, pointing to the same machine, and using this for the SharePoint site using IIS host headers. Real-world businesses either install SharePoint on a separate server, or have Small Business Server which builds it in, so this is mainly an issue for journalists and the like. Perhaps this is a small factor in why SharePoint gets less coverage than it should; it is not something we can just pick up and use like Office itself.
So why is SharePoint taking off? According to Wilkin, it is about "group productivity". He talks about how SharePoint deals with the classic document review process. Emailing documents around a company and getting numerous edited versions back is a hassle. Apparently Microsoft itself is now using SharePoint more intensively, and users just check-out a document, make changes, and check it back in. He adds,
…If you then combine that with the ease with which you can check that document into a workflow, and then have it automatically routed around the organization, and then very naturally combine that with data going in and out of backend systems whatever they are, that to me is the magic. Customers tend to get the value more quickly than some of the ISVs.
Visual Studio 2008 has support for SharePoint projects and this is something I plan to write about soon. If anyone has been doing SharePoint and/or Workflow Foundation development, I'd be interested to know how you found it.