The unstated theme of Adobe MAX 2011 last week was this: what is the future of Flash? The issue being that with HTML 5 ascendant and Apple wrecking the idea of Flash as an ubiquitous web plug-in, should Adobe be frantically retooling its design tools for HTML and apps, or does Flash still have a future?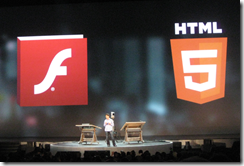 The answer is a little of both; but let's be clear: there was more Flash than HTML at MAX. What was the most eye-catching demo? It was Flash running Unreal Tournament with the claim of better graphical performance than on Microsoft Xbox 360 or Sony Playstation 3.
It is also worth noting that the touch apps demonstrated at the day one keynote were created in Flash and compiled into apps using the new Captive Runtime feature in AIR 3.
At the same time there was a substantial amount of HTML effort on show. There was the announced acquisition of Nitobi, makers of PhoneGap – though note that PhoneGap itself is heading to the Apache Foundation – and demos of the Edge motion and interaction tool for HTML5. Adobe also told us about its work on CSS Regions and CSS  Shaders. I also saw how HTML export, including partial ActionScript to JavaScript conversion, is coming in a future version of Flash Professional.
My perception is that while Adobe is serious about stepping up a gear with its HTML tools, its heart is still with Flash. That said, there is a shift of emphasis away from Flash as a web plug-in, other than when it is the "Games console of the Web", and towards Flash and Flex as a cross-platform development platform. Adobe is using Flash and AIR for its own Touch apps, previewed at MAX.
Let me add that the new features in AIR are huge, in particular the ability to package the Flash runtime as part of your app, called Captive Runtime, and the ability to extend your AIR app with native code. Cross-platform mobile tools are a particular interest of mine, and Adobe's offering is strong in this field, though it will never be the most efficient. Adobe is also pressing ahead with something like web workers for ActionScript, providing a form of concurrency, though this is not in AIR 3 but planned for a future release. Another big new feature in the Flash runtime is Stage 3D, accelerated 3D graphics which enabled the Unreal demo mentioned above.
Nitobi's Andre Charland was at MAX and I could not shake off the thought that he will find joining the Flash company difficult.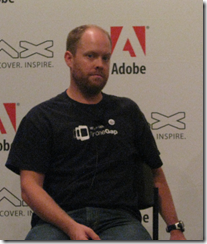 It will be near-impossible for Adobe to be equally enthusiastic about both PhoneGap and AIR, and given that Flash and AIR are so deeply woven into the company's products I suggest that PhoneGap is more likely to be neglected.
Take a look at Adobe's agenda for the Back from MAX event in London next month. It is 100% Flash and Flex.
What about the MAX attendees? I have contradictory evidence here. I noticed that a session on Building mobile apps with HTML, CSS and JavaScript (ie PhoneGap) was packed out, while the session running at the same time on What's new in AIR – and what's next was sparsely attended. This session was repeated, which means Adobe thought it would be a popular one. I was also surprised by how few went along to hear about Flash Professional Sneak Peek: a glimpse at the future which was a fascinating session if you are interested in the future of this tool. Adobe must have been surprised too, as it was in a large room.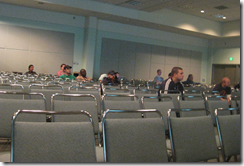 That said, a session on native extensions for AIR was moved from one of the smallest rooms to one of the biggest and was still full. There was also great interest in concurrency in the Flash runtime. Many of the attendees I spoke to saw themselves as Flash and Flex developers and there was more talk about how to fight off the perception that the tech world is moving to HTML, than of how to encourage it.
Getting rid of Flash may seem like obvious progress to someone annoyed by the Adobe updater, or who is an Apple iOS enthusiast, or who does not like the idea of proprietary plugins. It does not feel like that though if you have a browser-hosted app to maintain and enjoy targeting a single runtime rather than testing in every browser, as well as using features of Flash that are hard to replicate in HTML.
Adobe's design and development platform is still Flash-centric, which is either good or bad news depending on your perspective.