Searching Google recently it struck me that I rarely see results from Experts Exchange. I used to see a lot of these, because I typically search on things like error messages or programming issues for which the site is a useful source.
The site is controversial, because it (kind-of) charges for access to its knowledgebase but does not pay its experts. I posted about this back in 2009. That said, the quality of its advice is often good, and most answers are available without payment if you scroll far enough down the page. You can also get free access as an expert if you answer a few queries successfully.
Experts Exchange has to some extent been replaced by the StackOverflow group of websites, which are nicer to use and free, but I have found that the chances of getting your obscure query answered can be higher on Experts Exchange, particularly for admin rather than programming queries (of course for admin I am comparing with ServerFault).
Still, I wanted to test my perception that I no longer see Experts Exchange results in Google. I had a look at the Alexa stats for the site.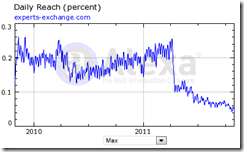 Wow! That vertical line is around April 2011, which is when Google rolled out its "High Quality Sites Algorithm". The site still ranks in the top 3000 in the world according to Alexa – 2787 at the time of writing – but according to the chart it lost around 50% of its visitors then, and has since declined further.
As noted above, the site is controversial, but I personally never minded seeing Experts Exchange results in my searches since the advice there is often good.
The bit that disturbs me though is simply the power Google has over what we read on the Internet. I appreciate the reasons, but it is not healthy for one corporation to have this level of influence, especially bearing in mind the black box nature of its workings.