I am upgrading my desktop PC, wondering as I do if this is the last time. I did this four years ago; maybe four years from now cloud, mobile and virtualisation will make this unnecessary.
But I digress. My PC is creaking and I am replacing most of its innards. I use an Intel motherboard with its embedded RAID controller to mirror the data on the main 1TB drive. Since I am now getting new, faster drives, I want to break the RAID. The question though: will this delete all the data?
The puzzle here is that the Intel Matrix Storage Manager insists that when you delete a RAID volume, all its data is lost. But why should you lose data if you are breaking a mirrored (RAID 1) volume? In this configuration, each of two drives maintains identical data. In fact, Intel's User's Manual says:
All data on the RAID drives will be lost unless the volume that is selected is a RAID 1 volume.
The utility itself is less comforting though, and when I go to break the RAID it says data will be lost unless it is a "Recovery volume", which is something slightly different.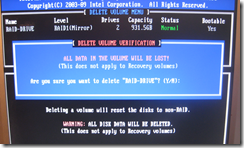 Now, if you are like me you set up the RAID in the first place because you would rather not lose that data. On the other hand, my suspicion was that the data would in fact be preserved. Caution prevailed, and I made a Windows system image backup of the entire thing, which took most of a day.
Then I deleted the volume. No data was lost and Windows booted perfectly, though it did reconfigure its storage drive and ask for a restart.
The second drive also retained all the data. Windows made it offline, because according to disk manager:
The disk is offline because it has a signature collision with another disk that is online
which is fair enough.
I can confirm, then, that in my experience you can delete an Intel RAID mirror without losing the data. Still, if this is data you care about, I guess you are going to take a backup anyway before pressing Y.