Microsoft will have expected some users to find the transition from Windows 7 to Windows 8 challenging, but I doubt it was ready for the reaction from its own community that it is receiving for Windows 8 Consumer Preview.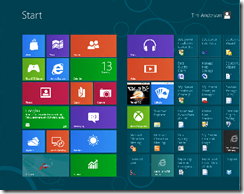 The best place to start is the comments on Building Windows blog here and here – at the time of writing, around 1300 comments, most from users who have downloaded and tried the Consumer Preview. It is worth browsing through them if this is something you care about; some are knee-jerk negative reactions, but some others are thoughtful and wanting Microsoft to succeed.
Overall, the message is: don't make us use Metro, let us stay in the desktop if we choose.
I'm still waiting for an explanation as to why my 30" desktop screen has to look like a smartphone, that's what my smartphone is for.
My users range from tech savvy to plant workers and truck drivers. Like all of us, the start button is baked into our DNA … How can I make the desktop the default UI?  I'm not going to deploy metro desktop to my users as the default screen. I would rather deploy a slew of ipads and I'm no ipad fan that is for sure.
In 17 years of using Windows I have never used the Windows key. Interestingly I've never seen any user of a computer use the Windows key. I don't want to learn and remember key combinations to do things that I can currently do trivially using the start menu.
Let me tell you something, I always have a gazillion webbrowser instances and tabs open (rarely less than 50 browser tabs and as much as 100) – I often run 5-10 Visual Studio instances simultaneously (and I know your usage statistics says average is 1, so you won't make it easier to distinguish between them, but this is a different matter..) – usually have 10+ explorer windows – and I absolutely love working this way, I am productive this way and that's what counts for me. I run 2 big screens with 2560×1440 resolutions to give me as much working space as possible, so I can easily switch between a lot of my open applications, browser tabs and explorer windows. Even if I had a use for some Metro UI application, I would be looking for a desktop alternative, so I could have it running side-by-side with my other applications – let's be honest, one application at a time might be great for the average joe, but it's a horrible solution for professional users.
Part of the problem here is that the Metro UI Windows 8 is more about solving a problem Microsoft has – how to compete with the iPad – than a problem its users face. It has been clear since Windows 8 was first previewed that the tablet UI and new Windows Runtime was Microsoft's main focus, and that desktop users would get less value than they might normally expect from a major release. The reaction to the Consumer Preview though is more serious than that: many users are saying that Windows 8 is, for them, a substantial step backwards.
I am writing this in Windows 8 on a desktop and it is not that bad. Apps are easy to launch once you get the hang of Windows Key – Search, and there are workarounds for the annoyances. There is no doubt though: if you are working mainly in the desktop – which is inevitable for most users upgrading – the "immersive UI" does get in the way at times. Since it must run full screen, a Metro app obliterates the taskbar and handy features like the time and date which shows bottom right in the notification area. If there were an option to run Metro apps in a window, I would grab it.
The irony here is that the name "Windows" refers to the ability to run multiple apps in windows, as opposed to the single application UI offered by DOS.
Another issue is that if you switch between Metro and Desktop, you have to learn two ways to do common tasks. For example, I tend to use the taskbar previews to find browser tabs, since if you have numerous tabs open it is the quickest way to find the one you want. If you are in the Metro browser though, you have to right-click to show the tabs. Right-click by mistake in the desktop browser, and you get a context menu. Add to favourites? Different. History? Different. All friction if you just want to get your work done.
If you have multiple monitors, Microsoft's "Move the mouse to the corner" idea for raising the Charms does not work well. The "Corner" is on the primary display, but if you have multiple displays it is not a corner but the border between two screens. You have to position the pointer just so to make it work.
There is more; but it is not my intention to iterate through every annoyance. I am more interested in the reaction overall and in what Microsoft will do next.
I will add that I admire what Microsoft has done from a technical standpoint in the Windows Runtime and that Windows 8 on a touch device with the right screen size has great promise as a new tablet operating system. It is my first choice for travelling; iPad and Android tablets are too limited, and I am more than ready to leave the bulky, awkward laptop at home.
Needless to say, few of those commenting will have tried such a device, for reasons I have described before. Windows 8 in a virtual machine is a worst case, and it is a shame that so many (for good reasons) are trying it that way.
What next for Windows 8?
It seems to me that Microsoft now has, broadly, three options for Windows 8.
1. Plough on regardless. This, I imagine, is the plan as it stands currently. Microsoft has deliberately made Metro unavoidable in Windows 8, I presume to ensure that it will not be ignored. There will be some refinements in the final release, improved discoverability of features users are struggling to find, but no fundamental change to the design approach. The plan as stated last month is that there will be no further beta, and the next public release will be the release candidate.
The question: can Microsoft do enough tweaking to win over a majority of its own community? Right now my sense is probably not. A negative reaction on release will be costly for the company and for all those third-parties who depend on its platform; yes, Windows 7 will have a prolonged life, but there will be loss of momentum for the platform overall.
2. Delay Windows 8 for further refinement. Go through the reactions to this broad public beta test, and work out how to fix the issues without losing the vision behind this "reimagined" Windows. Delay would be painful, of course, but less bad than a failed release.
The quick version of this would be to do what many are asking for: make the Metro-style personality in Windows 8 optional. Would that be such a disaster?
3. Release Windows on ARM (WOA) ahead of the full Windows 8. Most of the objections users have to Windows 8 do not apply to WOA, where Metro is primary, where all devices are touch tablets, and where those desktop applications (mainly Office) and utilities that are included are there to fill the gaps which Metro cannot yet fill. As for x86, users are still happy with Windows 7. When Vista was the current version, users could not wait for the next release, but there is no such pressure with Windows 7.