I attended an online seminar by Nokia's Jure Sustersic on Windows Phone 8 development. It was a high level session so not much new, though Sustersic says the 7.8 update for existing 7.x Windows Phones  is coming very soon; he would not announce a date though.
The slide that caught my eye was one on how to make more profitable apps, including some intriguing statistics. In particular, according to Sustersic:
Freemium apps (free to download but with paid upgrades or in-app purchases) achieve 70 times as many downloads and 7 times more revenue
The top 50 apps are 3.7 times more likely to have Live Tiles
The top 50 apps are 3.2 times more likely to use Push Notifications
The top 50 apps are updated every 2-3 months
The fastest growth is in new markets, so localize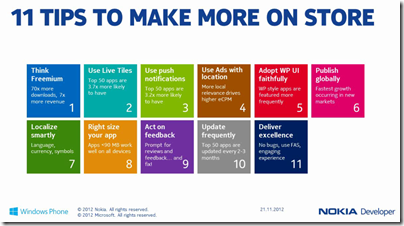 Of course what Windows Phone developers want most is a larger market, so for Nokia to sell more phones. Random reboots aside, Windows Phone 8 has been well received, but it an uphill task.
I covered the Windows Phone 8 development platform in summary here.