Internet Explorer 10 in Windows 8 features a new approach to Adobe Flash Player updates. These are now delivered via Microsoft's Windows Update, so you get security updates without having to suffer Adobe's separate updater.
That seems a good thing, and for security it probably is, but it seems that the price of this convenience is that you run an old version. See the table here: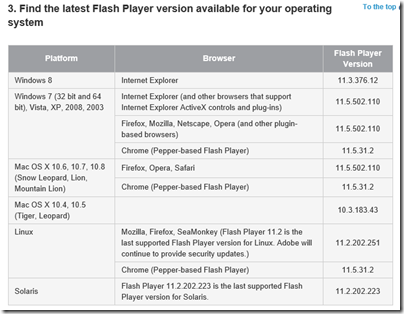 Note that Windows 7 users have version 11.5.502.110, while Windows 8 has only 11.3.376.12. There are major new features only available in the updated version.
Trying to run the installer for the latest debug version fails with a misleading error message:

Umm, no it is not the latest version.
Of course you can get round this by running Google Chrome:

[the OS is actually 64-bit but Chrome runs as a 32-bit process].
This still strikes me as disappointing. You may want to run IE, if you like having the browser maintained and managed by the OS vendor, and in Windows RT (the ARM version of Windows) there is no other option. That is becoming an impossible choice for developers. Chrome offers WebKit (the browser engine used on most mobile devices and in Safari on the Mac) as well as nice tools and hooks for debugging, and Chrome-specific support from vendors like Adobe makes it hard to avoid.