Appcelerator and IDC have released their latest mobile developer report, in which nearly 3,000 users of the cross-platform development tool Titanium report on their views and intentions.
These reports are always interesting but experience suggests that they are poor predictors. A year ago, the Q4 2011 report told us:
Amazon's new Kindle Fire ignites developer interest. When surveyed among 15 Android tablets, the lowcost, content-rich eReader was second only to the Samsung Galaxy Tab globally in developer interest. A regional breakdown shows Amazon edging Samsung in North America for the top slot. At 49% very interested in North America, the Kindle Fire is just 4 points less than interest in the iPad (53%) prior to its launch in April 2010.
Now, the Q4 2012 report says:
Amazon's Kindle continues to struggle for developers' interest. With less than 22% of mobile application developers "very interested" in building mobile apps for the device, the Kindle just barely breaks into developers' top 10 app targets.
This is one example; a glance back through previous editions shows plenty of others, showing that developers struggle as much as the rest of us when it comes to guessing the value of future markets.
The report is still useful as a snapshot of how things look now, for cross-platform mobile developers. One question which is always asked, and therefore can be compared easily from one report to another, is the proportion of developers who are "very interested" in developing for each platform.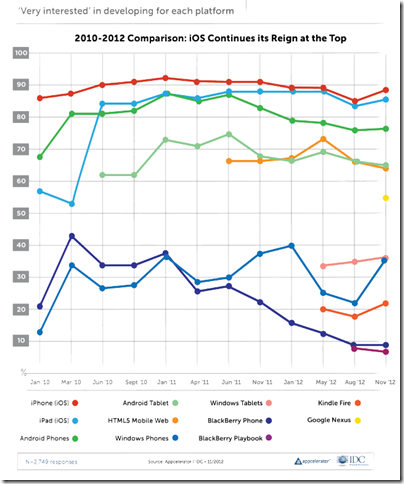 The top 5 contenders here are relatively stable, with Apple iOS top (iPhone and iPad), Android next (phone and tablet), and HTML5 Mobile Web also strong at about 65%.
The lower ranges are more interesting, as developers change their minds about prospects for the minority players. Windows Phone dived to around 22% in August 2012 but grew strongly to 36% in this report. Windows tablets, which we should probably take to mean the new Windows 8 app platform, is about the same. BlackBerry has declined from over 40% in March 2010 to 9% today, though I would suggest this will inevitably increase in the next report which will be after the launch of BlackBerry 10.
What else is interesting? One thing is Apple "fragmentation". The problem here is that Apple iOS now has six screen sizes, once you add iPad mini and iPhone and iPad with or without high-res Retina displays. This gives me pause for thought. The challenge of mobile apps is now closer to that of desktop apps, where you do not know what display will be used or how users will choose to  size the application window. Intelligent layout and scaling is key.
Apple is also increasingly awkward to work with:
More generally, 90% of developers believe that Apple has become more difficult, or about the same, to deal with over the past three years when it comes to application
submission, fragmentation, and monetization.
Part of the report concerns Microsoft Surface. This focus is puzzling, in that it is the Windows 8 app platform which really matters, rather than Surface itself. Another oddity is the questions put, with no option to say "Surface is great". The most positive option was:
It is a nice piece of hardware, but Windows 8 needs a lot more than that to be successful
A rather obvious statement which apparently won the agreement of 36% of developers.
The report gets even sillier when it comes to market disruption:
The top three companies that developers perceive to be ripe for disruption are a veritable who's-who of the biggest tech darlings
say Appcelerator and IDC. It is true; but the figures are tiny:
Microsoft (8% of respondents), Google (7% of respondents), and Facebook (7% of respondents).
In other words, over 90% of developers believe these three companies are not likely to be disrupted soon; a figure that strikes me as conservative, especially for Microsoft.
More impressive is that over 60% of developers believe Facebook will lose out in future to a mobile-first social startup. This was also true last time round; 66% in Q3 2012 and 62% in Q4 2012.
The length of time it took Facebook to release just a single native iOS app, coupled with the fact that a corresponding native Android app is still MIA, has proven that the company does not yet have a viable cross-platform mobile strategy.
say Appcelerator and IDC. A fair point; but Facebook's primary asset is its network of relationships rather than its software and it is not easy to disrupt. I would also guess that disruption is more likely to come from Google as it promotes Google+ and builds it more aggressively, perhaps, into Android, along with apps for iOS and other platforms as needed, than from a startup. But like the developers in this survey, I am guessing.