Today I downloaded the BBC's new Adobe AIR application, BBC Live.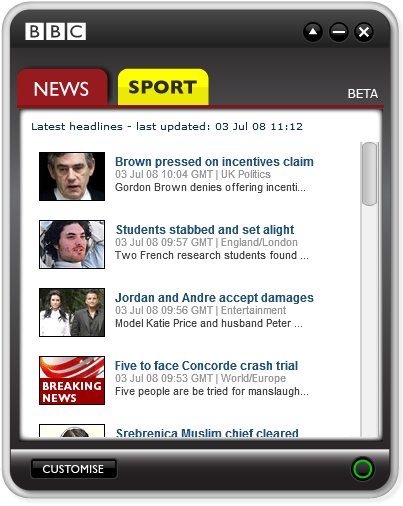 This installs as a system tray app on Windows. It's a beta. Nice little app; but it's competing against my existing RSS reader which is subscribed to the BBC news feed. The AIR app is much prettier, has images, and lets you customise the feed easily. However, the RSS reader deals with lots of feeds; and I can't imagine running a separate application for every one. The advantages of the BBC app are rather small compared to the convenience of using a single application for multiple news sources.
Lifehacker recently published a list of the top ten apps worth installing Adobe AIR for. The list had a contrary affect on me, since there is nothing there that I find really compelling. I tried the eBay Desktop app, for example, but much prefer visiting the web site.
So … personally, I'm still waiting for an AIR app to love. But I'd be interested to know what others are running and finding useful.