An interesting facet of the recent problems with UK non-supplier Zavvi Direct is that all the purchasers I spoke to found the fake web site via a Google ad. Put another way, without the ease of advertising through Google and eBay, it is likely that far fewer people would have found the site and potentially lost their money.
That raises the question: does Google do anything to verify that its advertisers are genuine? Here's the answer, from a Google spokesperson:
Google, along with other online and offline advertising platforms are not able to proactively check the legitimacy of each and every advertiser. Consumers should always check the validity of what is being sold to them and how they are asked to pay for items. If Google is alerted to a potential fraud then we will work with the relevant legal authorities to help them resolve such matters.
This was clarified to me as follows. Google will assume ads are OK unless it receives complaints. If it receives a few complaints it might pass them on to the merchant. If it receives numerous complaints it might warn the advertiser and eventually disable the account.
I guess it is unreasonable to expect Google to conduct checks on every advertiser. Still, there is a related point: does Google do enough to highlight the difference between advertisements, and links identified by its famous search ranking algorithms? Here is a snapshot of a search I just made: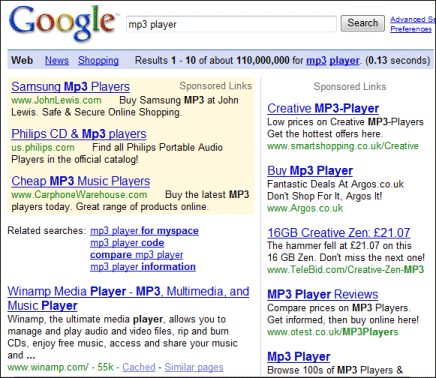 I've sized the browser small to get everything in; there are more search results than I've shown. However, it shows three panels of results. The top left is tinted and marked in unobtrusive gray type "Sponsored links". The top right is narrow, not tinted, and also marked in gray type "Sponsored links". The bottom left is what most tech-savvy folk think of as the main results area.
Judging by my interviews, some people are not really aware of the distinction between a "sponsored link" and a search result. In some cases, the buyer could not tell me what kind of link they clicked. To them it was just "Google".
It would be easy to make the ads more distinct. Google could use the plain English "Advertisements" rather than the "sponsored links" circumlocution. It could use something bolder than gray text to identify them. It could use a different font and colour for the links in the right-hand column. It is good that the top left links are in a tinted panel; yet some may perceive this simply as best-match links, rather than links in an entirely different category than those that follow.
Overall, it seems to me that Google deliberately makes its ads look the same as search results. Which is good for advertisers, but can be bad news for buyers.