When Microsoft announced Windows Phone 8, one disappointment was that existing phones would not be upgraded to the new mobile operating system. In mitigation, Microsoft promised Windows Phone 7.8 instead, an upgrade to Windows Phone 7.5 that implements the most visible feature of WP8, a new Start screen with more flexible live tiles that can be sized small and other new features.
Some users are now receiving 7.8 upgrades, but the news is not all good. According to reports on the Windows Phone Central forum, many users find that the Live Tiles are not refreshing correctly after the upgrade.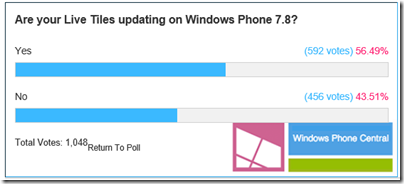 The idea of Live Tiles is that they refresh in the background with the latest data, such as news alerts or incoming emails.
Developers Heathcliff writes in detail about the problem. He describes three methods to update a Live Tile. The basic ShellTile.Update method works OK, he says. However, if you use an external URL to update a tile, using ShellTileSchedule.Start, it "behaves erratically" and may trigger a problem that drains your battery and makes excessive use of your data connection. Finally, HttpNotificationChannel.BindToShellTile, which uses Microsoft's notification servers, does not seem to work at all.
On WP 7.5 this method just works as expected. I actually hope I did something wrong here. Or else I don't understand how this could ever get past the Microsoft Quality Assurance department.
he says.
Finally, users also complain of slower performance after the update, which makes starting apps more laggy.
If Microsoft has put more effort into its new Windows Phone 8 operating system than into an update for existing user, that is understandable, but short-sighted. Those existing users are the best possible evangelists for the platform as well as potential repeat customers; and Windows Phone with its tiny 2.6 per cent global market share, according to IDC, needs all the help it can get.
That said, with decent new WP8 phones like the Nokia 620 available cheaply (O2 in the UK offered this for £120 pay as you go earlier this week), existing Windows Phone 7 users who want to stay up to date are better off buying a new device.