At Mobile World Congress there are endless identikit Android smartphones. Does that justify Nokia's decision two years ago to adopt Windows Phone? We will never know; but there is some merit in a distinctive offering, even though it comes with the pain of being a minority choice.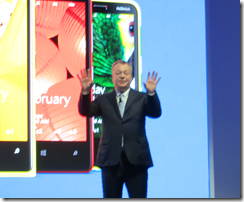 The press would prefer to see jaw-dropping new features on state of the art mobiles, but instead Nokia is delivering what the Windows Phone ecosystem actually needs: cheaper phones. Along with a couple of new feature phones, the 301 with a reasonable camera and Exchange email support, and the 105 at €15 and with a battery that lasts for a month, Nokia CEO Stephen Elop announced two new Lumia devices.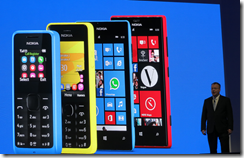 The 520 is €139 but still a full-featured Windows Phone 8 device, with a 4" screen, apparently the same camera lens as on a 920, and Nokia's location apps which are now branded HERE: Maps, Drive and Transit, and Nokia Music with free "Mix Radio" or premium quality, lyrics and download for €4 per month.
The 720 has a more advanced camera with a large f/1.9 aperture and a wide-angle front camera (usually front cameras are rubbish). Wireless charging with an optional cover. The 720 will be €249.
These devices will be in Asian territories this quarter and Europe probably in the second quarter of this year.
Android phones are also available at this kind of price; but my observation is that Windows Phone plus Nokia design and manufacturing compares well to the cheaper Android offerings.
The significance of these phones is that they have the potential to grow the market for Windows Phone apps and maybe to persuade key names like the BBC (there is no iPlayer for Windows Phone) that the platform is worth supporting.
Nokia also announced that its mapping technology will be in Firefox OS. It wants more users for its location services in order to improve their quality. More users means more data.
Another announcement is that the API for Nokia location and imaging features are being opened to third-party developers.