Mobile World Congress, now under way in Barcelona, is a big event. Exact numbers are not available, but I have heard talk of 70,000 trade attendees; it is not something you can safely ignore if you have a presence in the mobile industry.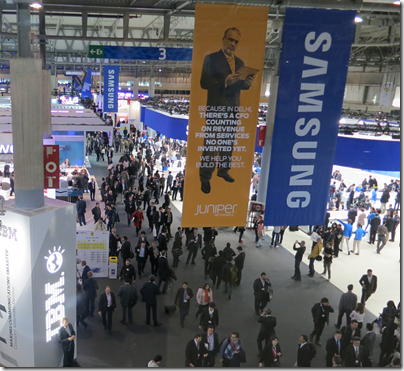 Nevertheless Apple chooses to ignore it, preferring its own exclusive events. This is a strategy that has worked in the past, but this year it may be less clever. Several have said to me that Apple is falling behind, being too slow to innovate its iOS device family. Of course many here are using Apple devices, but the momentum for now is elsewhere, though one magical announcement could change that any time.
Samsung on the other hand has the biggest stand here (actually several stands) and is everywhere. The underlying story is how Samsung is moving on from being an Android device vendor and focusing on Samsung-specific features. In the consumer world that means hooks into Samsung TVs or its new HomeSync media box with a Terabyte of storage, intended to be the place for all your music and video, as well as enabling Android games in your living room.
The bigger Samsung news though is its enterprise offering, called Knox, which creates a secure, encrypted container on your Samsung smartphone or tablet exclusively for business use. IT admins have full control over access and app deployment. This is the same approach used by Blackberry with the Balance feature in its new Blackberry 10 devices. Knox is implemented by third-parties, and links with Active Directory, making this an attractive proposition for businesses getting to grips with the challenge of mobile device management.
Crucially, Knox works only with Samsung devices. It is based on a secure edition of Linux and includes a hardware element so that other device vendors cannot implement Knox, though they could create their own similar system.
Blackberry on the other hand has not taken a stand at this event. Instead, it has parked itself in a hotel across the road, which its staff informally call Blackberry Towers. The symbolism is unfortunate. Last year it had a big stand; this year it is out of the mainstream. Blackberry's new devices look good but its key business selling point is Balance, which means it will not be happy about Samsung's Knox.
Microsoft is a puzzle, as is not uncommon for the company. Via Windows Phone it is a premier sponsor (which I imagine means a ton of cost) but does not have a stand. Windows Phone is mainly represented by Nokia, though it can be glimpsed elsewhere such as on the HTC stand. This is a company that wants to convince us that it is a serious force in mobile? Windows 8 is meant to be a new start on tablets; so where is Surface RT or Surface Pro?
I also wonder if the company has left it too late to establish Windows Phone as the best choice for secure mobility. I have been talking to Centrify here at Mobile World Congress, one of the third-parties implementing Knox solutions. Everything in a Centrify Knox deployment is controlled by Active Directory, and it forms an elegant and secure option for enterprises who want to give employees the freedom of a personal device combined with the security and manageability of a mobile device. I also saw how app developers can query Active Directory attributes on Knox Android devices just as they would with a Windows application.
So where is Microsoft with its enterprise smartphone story? It has all the pieces, including Active Directory itself, Bitlocker for device encryption, and System Center for management, but it has not yet assembled them for Windows Phone.
At least it is better than last year when it ran embarrassing "smoked by Windows Phone" demos.
Google is another puzzle. Last year a huge stand and a hall dedicated to Android; this year, nothing. Android may have won the mobile OS wars, but do initiatives like Knox show how Google is failing to reap the benefits? Possibly. It does seem to me that Google is now engaged in differentiating its own products and services from what you might call generic Android; and its absence from Mobile World Congress is likely part of that effort.