Desktop Keeley is a new Adobe AIR application from UK tabloid newspaper The Sun. If you are foolish enough to pass this dialog: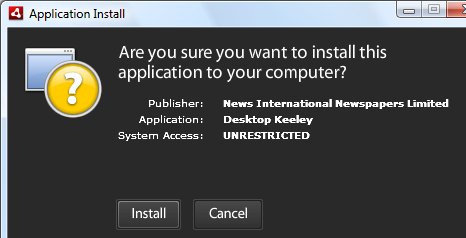 then you can benefit from:
Gorgeous Keeley is here to ease you through your day, putting a smile on your face and providing up to the minute sport info, showbiz gossip and news updates direct to your desktop.
She is too. No dull rectangular Windows; Keeley pops right onto your desktop. The default preferences reveal the target readership:
Keeley has a variety of animations and – credit where it's due – the application is nicely done. From time to time she pops up and scribbles "Get back to work" on your screen. According to journalism.co.uk it broke Sun's download records in three days.
Now if Microsoft had done Bob like this…
Seriously – what with Adobe Reader 9 and now this, AIR is everywhere, or will be soon.