Microsoft has announced Build 2014, its premier developer conference for Windows, April 2-4 in San Francisco.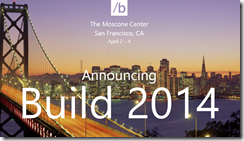 In his blog post on the subject, developer evangelist Steve Guggenheimer mentions the Windows 8 app platform and Xbox One, and promises that Microsoft will talk about "what's next for Windows, Windows Phone, Windows Azure, Windows Server, Visual Studio and much more."
How is the buzz around Microsoft right now? Here are a few things that are not so good:
The Windows 8 app platform continues to struggle, despite picking up slightly from its dismal launch. Most of the conversation I hear around Windows 8 looks back to Windows 7 rather than forward to the new tablet platform: will the Start menu return?
The decline of the PC remains in full flow, while the non-Windows mobile platforms iOS and Android continue to grow
Xbox One, with its focus on Kinect and family entertainment, is falling behind Sony's PlayStation 4 in terms of which console is most desired. Sony's cheaper price and higher resolution on games like Call of Duty Ghosts make it a better for buy for gamers who can live without Kinect
On the other hand, a few positives:
Microsoft's cloud platforms Office 365 and Windows Azure are growing fast, as far as I can tell
Server 2012 R2 is a solid upgrade to an already strong server product, and Hyper-V is making progress versus VMWare in virtualisation
Windows Phone 8 is making some progress in market share, though whether it will cross the point at which it becomes important enough for companies with apps to feel they have to support it remains an open question (currently they mostly do not)
What does that mean for Build? We may of course just see more of the same: improvements to Windows 8.x, further convergence with Windows Phone and Xbox platforms, new features for Windows Server and Azure, early previews of the next Visual Studio to support the new stuff.
I wonder though whether we may also see some new directions. Microsoft is supporting Xamarin for cross-platform mobile development and it would not surprise me to see more being made of this, or possibly some new approaches, to promote the use of Microsoft's cloud services behind apps that run on iOS and Android.
Microsoft still intends for Windows 8/Windows Phone to be a major mobile platform alongside iOS and Android but its progress in reaching that point is slow. The task of building its cloud platform seems to be going better, despite competition from the likes of Amazon and Google, and in this context deep integration with the Windows client could be as much a liability as an advantage.
It may seem perverse; but it could pay Microsoft to focus on improving how well its server offerings (and Office) work with iOS and Android, rather than pushing for Windows everywhere as it has done in the past.