Facebook has acquired WhatsApp for a breathtaking $16 billion. Too much money by any normal valuation; but that might not matter if it makes sense strategically.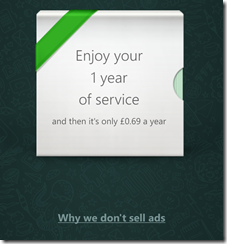 What is the value of WhatsApp?
WhatsApp is on a path to connect 1 billion people. The services that reach that milestone are all incredibly valuable.
says Facebook's founder and CEO Mark Zuckerberg. Facebook is purchasing an extension to its "social graph", a billion people's interconnections. The obvious goal is to accomplish two things:
Defend Facebook from disruption and keep users on its network – particularly the younger demographic that may be drifting away.
Gather more data which will be used for targeted advertising and potentially rich future services.
There are two companies which dominate the Internet today, and they are Facebook and Google. Their business model is mainly advertising, but they may be better perceived as data companies than as advertising companies. The big bet is that future technology will revolve around smart, deeply personalised services that will improve our lives, based on what they know about us, our friends and connections, our location, our preferences and and our schedule. The clearest expression of this is Google Now which can notify you when to leave for your meeting based on current traffic – without you having to spend time configuring settings or entering data. Google looks at your schedule (which it knows through your calendar), your location (which it knows through your smartphone), mashes that data with its mapping and traffic services, and surfaces the result as a notification.
The trade-off is that you hand over your data to Google (enabling it to provide ever-richer services) while receiving in return an easier life.
Does the deal have a dark side? Undoubtedly. Might future services be paid for, might Google or others take advantage of that data in ways we dislike? Quite possibly. This is the bet though; and it is everywhere.
Take the automotive industry for example. I wrote up the latest buzz in automotive marketing for the Guardian, and heard this from one of the experts I consulted:
"The actual car; the engine, the wheels, the drive shaft, the bodies, those have become commodities. The differentiator for cars is the in-dash system, the computer," says Patrick Salyer, CEO of Gigya. "If car companies can connect with their customers' social login, they can build a permanent lasting relationship. If the car company tracks things about me like my driving habits and where I go, it is actually a value add insight. That is a reason to stay with that car company"
Salyer thinks that Facebook, Google and automobile companies are in a war to own that data. It is all about the data.
This therefore is what Facebook is buying: future data, in a messaging service that because of its mobile orientation may prove to be a kind of successor to email and SMS messaging.
That is the rationale, but will it work? The problem with WhatsApp is that it is fashionable; and what comes into fashion can go out, too, especially for the young. You can bet too that Google (Facebook's biggest problem) will counter by using its OS platform, Android, to point users towards its own messaging services. If you have an Android phone you are already logging into Google, no need to sign up for another service.
Who knows, two to three years from now we may be joking about how much Facebook paid for WhatsApp. But Facebook can afford a few big gambles, and does not need for all of them to come off.
Postscript: you should read WhatsApp founder Jan Koum's blog post on Why we don't see ads while it is still online.
Advertising isn't just the disruption of aesthetics, the insults to your intelligence and the interruption of your train of thought. At every company that sells ads, a significant portion of their engineering team spends their day tuning data mining, writing better code to collect all your personal data, upgrading the servers that hold all the data and making sure it's all being logged and collated and sliced and packaged and shipped out… And at the end of the day the result of it all is a slightly different advertising banner in your browser or on your mobile screen.

Remember, when advertising is involved you the user are the product.
Money, as songwriter prophet Bob Dylan observed, does not talk. It swears.