Four years ago, on 28th September 2010, the open source LibreOffice productivity suite was created by forking OpenOffice. This Microsoft Office alternative offers a word processor, spreadsheet, presentation graphics, vector drawing package, and database manager. Its origins are in a German suite called Star Office, which was acquired by Sun Microsystems in 1999. In an effort to disrupt Microsoft, Sun made Star Office free and open source, creating OpenOffice.org. However Sun itself was acquired by Oracle Corporation in 2010, and LibreOffice was created by a breakaway group of OpenOffice contributors who were wary of what might happen to the project under Oracle's stewardship.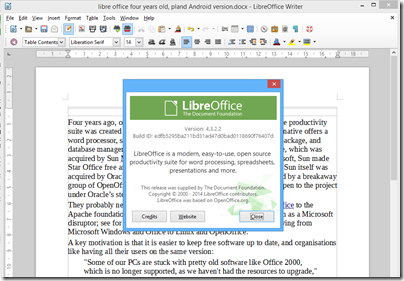 They probably need not have worried, since Oracle donated OpenOffice to the Apache foundation in 2011. It is still performing its intended function as a Microsoft disruptor; see for example this report of the Italian city of Udine moving from Microsoft Windows and Office to Linux and OpenOffice.
A key motivation is that it is easier to keep free software up to date, and organisations like having all their users on the same version:
"Some of our PCs are stuck with pretty old software like Office 2000, which is no longer supported, as we haven't had the resources to upgrade," Gabriele Giacomini, the innovation and economic development councillor for the municipality of Udine, told ZDNet.

"By switching to open source, we will have the chance to allow our employees to work with the latest version of the suite"
Microsoft, of course, wants to address this by persuading users to subscribe to Office rather than buying it outright; though this does not solve the problem of out of date Windows versions (but watch this space).
But what about LibreOffice? What is the point of having two major open source productivity suites based on essentially the same products?
Good question; but one possible differentiator is that LibreOffice is working on an Android port. The Document Foundation, which runs the LibreOffice project, is inviting tenders for implementation of the suite on Android, complete with a basic interface for integrating with the user's "preferred cloud storage".
Another point of interest is that the Foundation is asking for commercial tenders rather than hiring its own coders to work with the open source community.
That said, there is already an Android port of OpenOffice, called AndrOpen Office, though this is a fork and not an official Apache OpenOffice project.
Are these multiple forks healthy proliferation, or open source confusion? That depends on your point of view, though it does show the ability of the open source community to respond to obvious needs.
It seems to me though that the suite would be more attractive to businesses if LibreOffice and OpenOffice could merge, and develop an official Android version of the suite.
My guess is that productivity software on tablets (and phablets) will be a key battleground as users do an increasing proportion of their work on mobile devices rather than PCs or laptops. Microsoft already has an iOS version of Office, and one for Android in preparation. There is also a version of Office for the Windows 8 "Metro" personality in preparation.
Open source advocate Glyn Moody has posted about the LibreOffice project here.