At the Adobe Max conference in Los Angeles, Adobe has announced enhancements and additions to its Creative Cloud service, which includes core applications such as Photoshop, Illustrator, InDesign and Dreamweaver, mobile apps for Apple's iPad, and the online portfolio site Behance. Creative Cloud is also the mechanism by which Adobe has switched its customers from perpetual software licences to subscription, even for desktop applications.
One of today's announcements is a public preview version of the Creative SDK for iOS, with an Android version also available on request. Nothing for Windows Phone, though Adobe does seem interested in supporting high-end Windows tablets such as Surface Pro 3, thanks to their high quality screens and pen input support.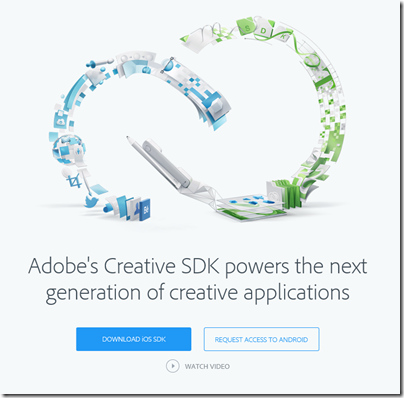 The Creative SDK lets developers integrate apps with Adobe's cloud, including access to cloud storage, import and export of PSD (Photoshop) layers, and image processing using cloud services. It also gives developers the ability to support Adobe hardware such as Ink and Slide, which offers accurate drawing even on iOS tablets designed exclusively for touch control.
Adobe's brand guidelines forbid the use of Adobe product names like Photoshop or Illustrator in your app name, but do allow words such as "Photoshop enabled" and "Creative Cloud connected."
Other Adobe announcements today include:
Mobile app changes
Adobe's range of mobile apps has been revised:
Adobe Sketch is now Photoshop Sketch and lets you send drawings to Photoshop.
Adobe Line is now Illustrator Line and lets you send sketches to Illustrator.
Adobe Ideas is now Illustrator Draw, again with Illustrator integration.
Adobe Kuler is now Adobe Colour CC and lets you capture colours and save them as themes for use elsewhere.
Adobe Brush CC and Adobe Shape CC are new apps for creating new brushes and shapes respectively. For example, you could convert a photo into a vector art that you can use for drawing in Illustrator.
Adobe Premiere Clip is a simple video editor for iOS that allows export to Premiere Pro CC.
Lightroom Mobile has been updated to enable comments on photos shared online, and synchronisation with Lightroom desktop.
There are now a confusingly large number of ways you can draw or paint on the iPad using an Adobe app, but the common theme is better integration with the desktop Creative cloud applications.
Desktop app enhancements
On the desktop app side, Adobe announcements include Windows 8 touch support in Illustrator, Photoshop, Premiere Pro and After Effects; 3D print features in Photoshop CC; a new curvature tool in Illustrator; and HiDPI (high resolution display support) in After Effects.
New cloud services
New Adobe cloud services include Creative Cloud Libraries,a design asset management service that connects with both mobile and desktop Adobe apps, and Creative Cloud Extract which converts Photoshop PSD imagines into files that web designers and developers can use, such as colours, fonts and CSS files.
Adobe's Creative Cloud is gradually growing its capabilities, even though Adobe's core products remain desktop applications, and its move to subscription licensing has been executed smoothly and effectively despite annoying some users. The new SDK is mainly an effort to hook more third-party apps into the Adobe design workflow, though the existence of hosted services for image processing is an intriguing development.
It is a shame though that the new SDK is so platform-specific, causing delays to the Android version and lack of support for other platforms such as Windows Phone.
Adobe actually has its own cross-platform mobile toolkit, called PhoneGap, though I imagine Adobe's developers feel that native code rather than JavaScript is the best fit for design-oriented apps.