At MWC earlier this month I met with Imagination, best known for its PowerVR video design but also now the owner of the MIPS CPU. Apple is a shareholder and uses Imagination video technology in the iPhone and iPad. This market is highly competitive though, especially since ARM has its own Mali GPU. "You need complete platforms, you need a processor," Tony King-Smith, executive VP of Technology Marketing, told me. "All the markets that matter to us are integrating towards a single chip. For a single chip you need some mix of central processing, communications, and multimedia."
MIPS is a supported CPU for Android 2.3 or higher but most Android devices run ARM or Intel CPUs. Why no MIPS devices at MWC?
"There is one and a half to two years between a licensee picking up the IP, and delivering silicon based on it," an Imagination's spokesperson said. "We are engaged with customers but until something shows up we cannot disclose any names. Next year we are going to see some progress and potentially something I can show you." Watch this space then.
What is Imagination's strategy overall? King-Smith told me that the company is well placed to satisfy the need for optimisation and differentiation in an increasingly mature mobile market. It is also eyeing the IoT (Internet of things) space with interest. "Wearables need completely new architectures," said King-Smith. "Not just tweaking a mobile chip. That's where we're going."    
I was also interested to see a real demo of Vulkan, the successor to OpenGL, on the Imagination stand, based on the preliminary specification. "It will enable people to make more use of our platform", said King-Smith, because of the lower level access it offers to the GPU.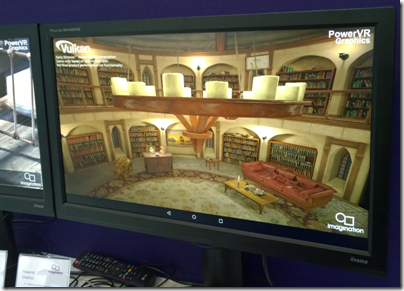 For more on Vulkan see this piece on the Reg.
What about the Creator board which Imagination has released, a low-priced starter kit along the lines of Raspberry Pi but of course with MIPS and more powerful graphics? It is an effort to build the ecosystem, said King-Smith. "It is a means for us to deliver our IP and make it easier for developers to engage with us. We also want to enable start-ups and new solutions." It is primarily for developing and testing ideas, then, but if you want to go into production with it, that is fine too. "That board has been designed to ramp in volume," King-Smith told me.