I attended Mobile World Congress in Barcelona last week – with 93,000 attendees and 2,100 exhibitors according to the latest figures.
It was a big event for Microsoft's new Windows. It started for me on the Saturday before, when Acer unveiled a low-end Windows Phone (write-up on the Reg). Next was Microsoft's press conference; Stephen Elop was on stage, presenting two new mid-range Lumias as if nothing had changed since last year when he announced the now-defunct Nokia X: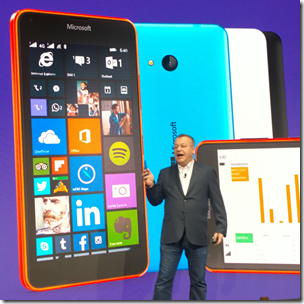 The Lumia 640 looks good value, especially in its XL guise: 5.7" 1280 x 720 display, 8GB storage plus microSD slot, 13MP camera, 4G LTE, quad-core 1.2GHz CPU, €189 ex VAT. The smaller Lumia 640 is now on presale at £169.99; we were told €139 ex VAT at MWC, so I guess the real price of the 640XL may be something like £230, though there will be deals.
These phones will ship with Windows Phone 8.1 but get Windows 10 when available.
The big Windows 10 event was elsewhere though, and not mentioned at the press conference. This was the developer event, where General Manager Todd Brix, Director of Program Management Kevin Gallo and others presented the developer story behind the new Universal App Platform (not the same as the old Universal App Platform, as I explain here).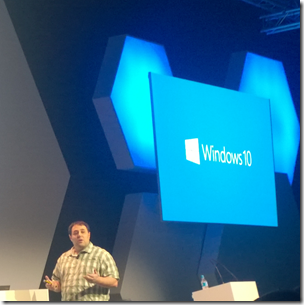 This was the real deal, with lots of code. There was even a hands-on session where we built our own Universal Apps in Visual Studio 2015. Note that the Visual Studio build we used featured an additional application type for Windows 10; this is not the same as a Store app in Windows 8, though both use the Windows Runtime.
As someone with hands-on experience of developing a Store app, I am optimistic that the new platform will achieve more success. It is a second attempt with a bit more maturity, and much greater effort to integrate with the Windows desktop, whereas the first iteration went out of its way not to integrate.
Much of the focus was on the Adaptive UX, creating layouts that resize intelligently on different devices. The cross-platform UI concept is controversial, with strong arguments that you only get an excellent UI if you design specifically for a device, rather than trying to make one that runs everywhere. The Universal App Platform is a bit different though, since it is all Windows Runtime. Microsoft's pitch is that by writing to the UAP you can target desktop, Windows Phone, tablet and Xbox One, with a single code base; and without a cross-device UI this pitch would lose much of its force. Windows 7 legacy is a problem of course; but if we see Windows 10 adopted as rapidly as Windows 7 (following the Vista hiccup) this may not be a deal-breaker.
The official account of the MWC event is in Gallo's blog post which went out on the same day. There was much more detail at the event, but Microsoft is holding this back, perhaps for its Build conference at the end of April. So in this case you had to be there.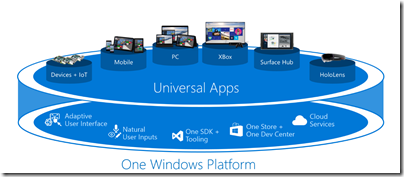 Aside: if you look at the publicity Microsoft got from MWC, you will note that it is mostly based on the press conference and the launch of two mid-range Lumias, hardly ground-breaking. The fact that a ton of new stuff got presented at the developer event got far less attention, though of course sharp eyes like those of Mary Jo Foley was onto it. I have a bias towards developer content; but even so, it strikes me that a session of new content that is critical to the future of Windows counts for more than a couple of new Lumias. This demonstrates the extent to which the big vendors control the news that is written about them – most of the time.