First up at Mobile World Congress is the launch of TCL's Blackberry smartphone. TCL is a Chinese manufacturer with headquarters in Hong Kong, and has licensed the Blackberry brand. TCL also markets smartphones under its own name and as Alcatel OneTouch.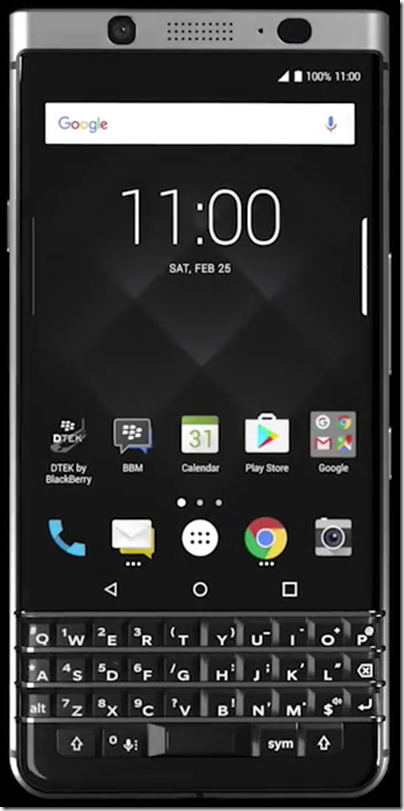 The KEYone runs Android 7.1 "Nougat" but with a couple of distinctive features. The most obvious is the full QWERTY keyboard, though this one has extra features including gesture support, flick typing (suggested words appear as you type with one-key shortcuts), and the ability to make up to 52 keyboard shortcuts to launch applications. The spacebar doubles as a fingerprint sensor.
The other special feature is hardware-based security, based on Blackberry root of trust technology. There is also a DTEK app which monitors security and adds malware protection.
TCL says it is "the world's most secure Android experience" though note that alternatives like Samsung's Knox technology are also hardware based.
None of the other mainstream smartphones have physical QWERTY keyboards though. However there may be a good reason for that. I am a fan of keyboards; I am a touch typist and the keyboard is one of the things which ties me to laptops or external keyboards; I can do without a mouse, but a keyboard is hard to live without.
That said, thumb-size QWERTY keyboards miss the point somewhat, in that you cannot touch type. I suggest also that the advent of swipe-style predictive keyboards has largely removed whatever advantage these little keyboards once had. Swiping only works on a touch keyboard, and is now very effective.
The downside of a real keyboard is that you get a smaller screen.
Still, there will be some users who find a physical keyboard reassuringly familiar and the shortcut feature could be useful.
The KEYone will be available from April 2017 at around €599/£499/$549.
Quick hardware specs:
4.5-inch display (1620×1080 resolution/434 PPI )
Qualcomm Snapdragon 625 chipset with Adreno 506 GPU.
3505 mAh battery
12MP rear camera with Sony IMX378 sensor.
8MP front camera with fixed focus and 84-degree wide angle lens.
3GB RAM and 32GB storage
Micro SD slot
More information here.