I went to open Spotify this morning, installed from the Windows Store, but saw the following error:

This is not user friendly. However I have the latest April update of Windows 10 (this may be the reason of course) which can reset and repair apps. Just right-click the app and choose App Settings. I clicked Repair. Got a nice tick. However the same error message.
So I tried Reset. This completely reinstalls the app and resets its settings (annoying). Got a nice tick. Same error message.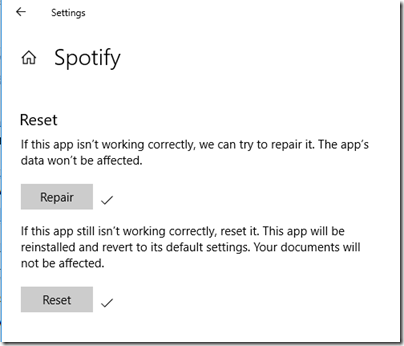 Figuring this might be worth a blog post, I went to Open Live Writer, also installed from the Store. Oh dear. An invalid name request was made. The name requested cannot be retrieved at this time.
In true Windows style, the actual name requested is hidden, not that I was consciously wanting to retrieve any kind of name. I just want the app to run, and being locally installed, reckon it should just work.
I reverted to the non-Store version of Open Live Writer to make this post.
In the event viewer, I see this:
0x801F0005: Cannot create the Desktop AppX container for package SpotifyAB.SpotifyMusic_1.80.474.0_x86__zpdnekdrzrea0 because an error was encountered configuring the runtime.
Next thing to try: reboot. Everything is fine.
This is ugly though. Something broke multiple apps installed from the Store. I will update if I discover more about the reason for this.
Update: A tweet from Microsoft Lead Program Manager Stefan Wick states that a fix is in the works: