I am having a clear-out which is bringing back memories and unearthing some intriguing items. One is this Compaq C140 PC Companion, running Windows CE, which launched in December 1997.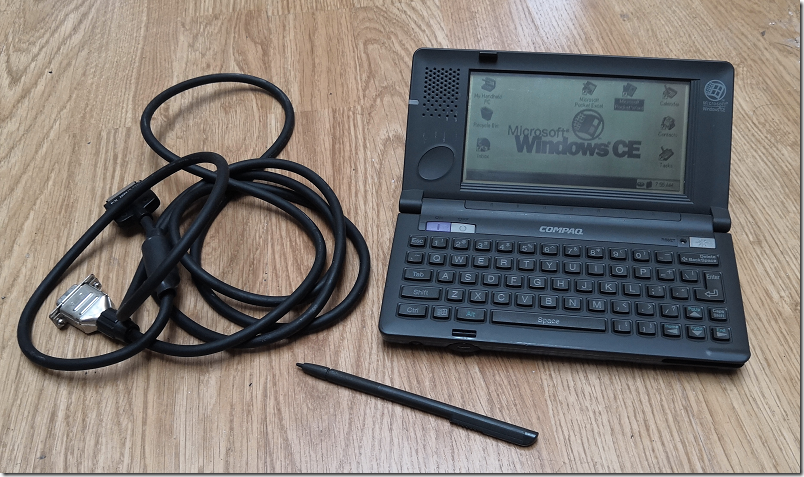 The beauty of this device is that it takes two AA batteries. I stuck in some new ones and found that it started up fine, not bad after more than 20 years. Most more recent devices have a non-replaceable rechargeable battery which usually fails long before the rest of the electronics, rendering the entire device useless (at least without surgery).
The C140 runs Windows CE 1.0 and has a monochrome touch screen designed to be used mainly with a stylus. 4MB RAM, 4MB storage, and comes with versions of Word, Excel, Calendar, Contacts and Tasks. There is also a calculator and a world clock. It is expandable with PCMCIA cards (though not many have drivers). The idea is that you link it to your PC with the supplied serial cable and synch with Outlook, hence PC Companion.
The odd thing is, looking at this device I still find it superficially compelling. A pocketable device running Word and Excel, with a full QWERTY keyboard, stylus holder so you do not lose it, what's not to like?
A lot, unfortunately. The biggest problem is the screen. There is a backlight and a contrast dial, but it is faint and hard to read in most lights and you constantly fiddle with the contrast.
The next issue is the keyboard. It is too cramped to type comfortably. And the format, though it looks reassuringly like a small laptop, is actually awkward to use. It works on a desk, which seems to miss the point, but handheld it is useless. You need three hands, one for the device, one for the stylus, and a third for typing. The design is just wrong and has not been thought through.
I have searched for years for small portable devices with fast text input. I suppose a smartphone with a Swype keyboard or similar comes closest but I am still more productive with a laptop and in practice the thing that has made most improvement for me is that laptops have become lighter and with longer battery life.
Spare a thought though for Microsoft (and its partners) with its long history of trying to make mobile work. You can argue back and forth about whether it was right to abandon Windows Phone, but whatever your views, it is a shame that decades of effort ended that way.