Just one week after the final release of Microsoft's Internet Explorer 9, and here comes another major browser, Mozilla Firefox 4.
What's new in Firefox? Performance, for one thing. There is a new JavaScript engine called JägerMonkey which is more effective than the old TraceMonkey – though TraceMonkey is still there – and there is hardware-accelerated graphics on Windows Vista and Windows 7 using Direct2D, and on Windows and Mac Direct3D or OpenGL are used to speed page composition.
On the appearance side, Mozilla has streamlined the user interface with tabs above the address bar, sorry Awesome Bar, and reduced the number of buttons. By default there are no menus visible, and you are meant to use the Firefox button at top left: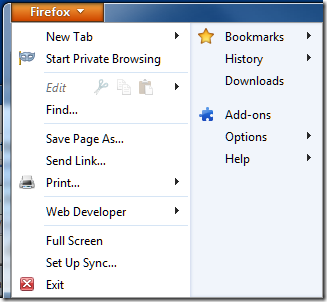 I was disconcerted not to find the Tools menu here and one of the first things I did was to show the menu bar, though it does spoil the new UI design.
Firefox is also coming to Android and Maemo devices, and a great feature called Sync will synchronize bookmarks, tabs, passwords and history across all the devices you use.
There is also a new privacy feature called Do not track. This is a way of telling websites that you do not wish to be tracked. Tracking is used by web advertisers to send ads based on your browsing history as seen by that advertiser. Since many websites have scripts served by the same ad agency, this can be considerable. The feature does not block tracking, but only requests not to be tracked. It is off by default and buried in Advanced options, so will probably not be very effective.

Firefox is an excellent browser, with many more features than I have mentioned above. A few observations though.
The new features in Firefox 4 echo many of the few features in Internet Explorer 9, which in turn echoes some of the themes in Chrome. However on my system IE9 seems to be a little faster than Firefox 4, the user interface is more polished in my opinion, and the tracking protection in IE9 is more effective since it does actually block tracking.
Then again, there are Firefox add-ons that also block tracking; and in general Firefox seems to have the best range of available add-ons, which could well be the deciding factor for many users.
Firefox 4 still has a separate search box, and in principle I like this. I find it annoying that IE9 and Chrome intermingle searches and URLs in one box. I suspect though that I am in a minority of users. If you switch between browsers, you can find yourself typing searches in the Awesome Bar anyway, though habit, so I am guessing Mozilla will cave in and combine them eventually.
Mozilla is a non-profit organisation with a strong open source and community ethos and that also may be enough reason to use Firefox.
It does face intense competition now though, and it must be a concern that its income comes largely from:
search functionality included in our Firefox product through all major search partners including Google, Yahoo, Yandex, Amazon, Ebay and others.
which in practice is mostly from Google, which has a competing browser.
Personally I think Mozilla will struggle to maintain market share for Firefox; though version 4 is having a good launch complete with a delightful Twitter party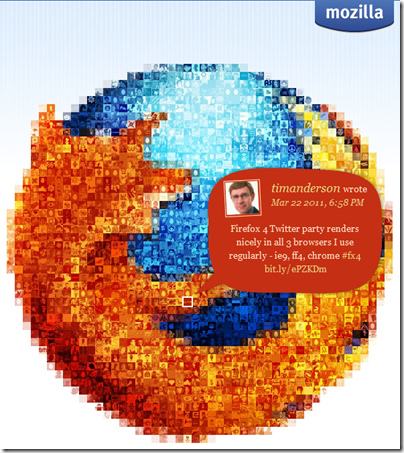 and a pretty download stats counter which is currently on 2.75 million and climbing fast.